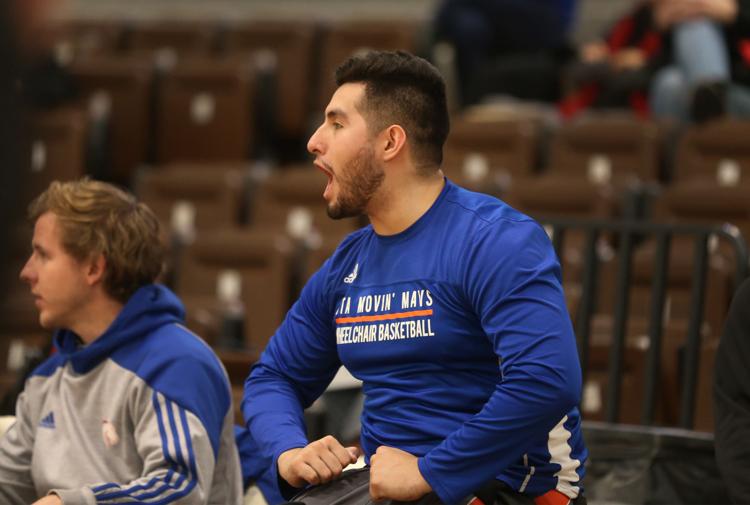 On the hunt for its ninth national title, the Movin' Mavs look to bounce back after last season's third-place finish.
The team returns 11 and welcomes five newcomers to bolster the squad. Head coach Doug Garner said last year the team lacked resilience, costing them a place at the National Intercollegiate Wheelchair Basketball championship match after a semifinal loss.
Through continued practice and repetitions, the team should create a positive chemistry for the season, Garner said. The positive, intense leadership will be key to keeping everyone focused this season, he said.
"We have to be resilient, and we have to be able to work through those downhill slides," Garner said.
Senior Fabian Romo and junior Clarence McCarthy-Grogan will captain the team this year, hoping to lead the team back on a title run. Both were part of the squad that won the Movin' Mavs' eighth title back in 2017.
McCarthy-Grogan and Romo both said the team doesn't lack scoring talent. Tightening up defense and buildup play will be essential to a successful season.
"We've just got to try and make sure we can have a solid five that can do really well on offense, but just as important, if not twice as much, on defense," McCarthy-Grogan said.
McCarthy-Grogan said reclaiming the national title won't be easy, with strong opposition like defending champions University of Alabama, as well as the University of Illinois, the University of Missouri and the University of Wisconsin-Whitewater.
"It's gonna be a bit of an arm wrestle this season," McCarthy-Grogan said.
The program's past success can't carry the team this season nor should it feel obligated to win because of it, Romo said. But he said having won a national title two seasons ago inspires him to seek out the next one.
"I look at [our banner] every day, and I'm like, 'Yeah, damn. We won that. I want another one,'" he said. "The focus is more on getting that next one rather than fulfilling the legacy of having more banners."
@_julio_vega