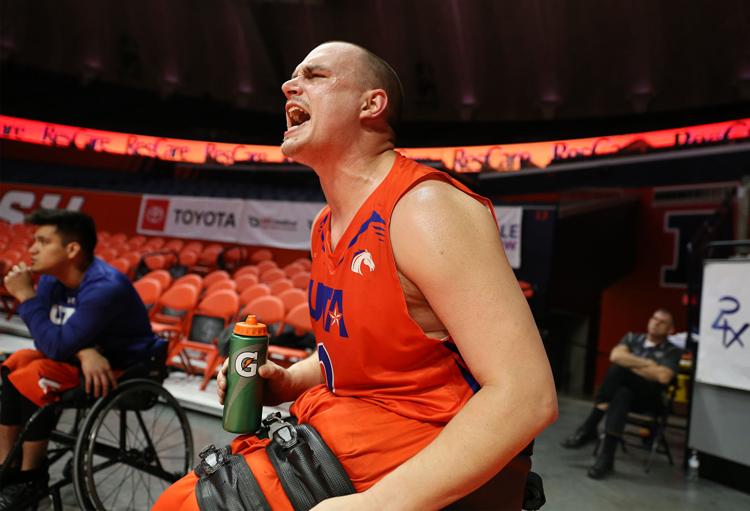 CHAMPAIGN, Ill. — The Movin' Mavs took their quarterfinal matchup against the University of Illinois on Saturday on the back of a 12-0 run late in the second half.
UTA clung to a four-point lead for much of the tightly-contested match before pulling away and defeating Illinois by a score of 67-48 to advance to the next round of the National Intercollegiate Wheelchair Basketball Tournament.
The Movin' Mavs held the Fighting Illini to a meager six points after the eight-minute mark of the second half.
"We've been a second-half team the whole season," said freshman Zach Blair, who led the Movin' Mavs in scoring with 20 points. "Coming into halftime we were like, 'Let's just play our game; these guys can't hang with us.' After that, once this train gets going it's hard to stop it."
Blair, along with Movin' Mavs junior Antoine Gray, proved to be a huge size advantage for UTA. Gray especially was a force in the paint, scoring 12 points on six shots.
"You can't teach big," Gray said. "As long as I get down there and I take my time, if they don't foul me, I should be alright."
It was a heated, impassioned game through the first 32 minutes. The first half saw the teams seesawing back and forth with six ties and six lead changes. A pair of late Illinois turnovers that led to a pair of breakaway layups for junior Clarence McCarthy-Grogan started the second-half run that eventually closed out the Fighting Illini and sealed the first-round matchup.
The Movin' Mavs will play against the University of Alabama in the tournament semifinals at 4 p.m. Friday.
Head coach Doug Garner said he hopes they retain the intensity from today's matchup.
"If you watch that game you'll see our guys jumping and switching and talking," Garner said. "That kind of intensity on defense will win a lot of ballgames." 
@coylio33