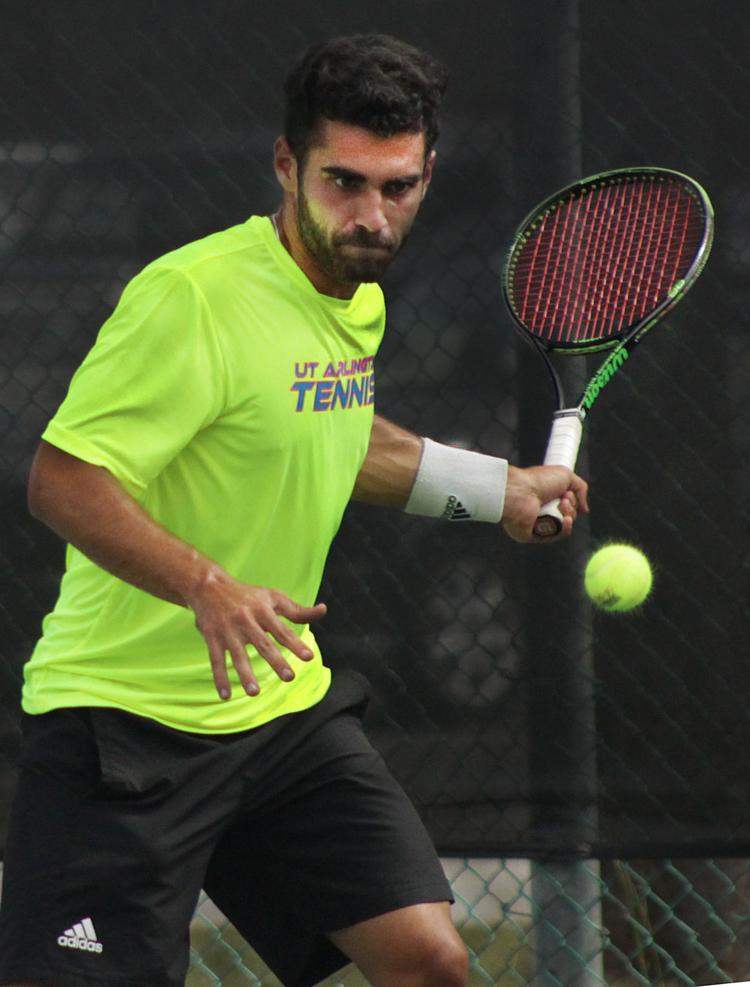 Tennis head coach Diego Benitez characterizes Guanarteme Nuez as dedicated, mature and responsible.
Also known as "Pedro" or "Teme," Nuez has become a great asset for the tennis program within a couple of years, Benitez said.
However, he wasn't always a tennis player.
The Spanish native played multiple sports as a child. His parents wanted him to try new things, so by 4 years old, he was competing in judo, tennis and soccer.
It wasn't until Nuez was between 8 and 10 years old that he decided to stick with tennis.
"I feel I am more talented in tennis than any other sport. I feel like it is more natural to me," he said. "I chose tennis because it is an individual sport."
Nuez said he favors individual sports, because they are easier for him to dominate. He said in soccer, he has to depend on multiple people, so even if he has a great game, there is still a possibility of losing.
"In tennis, it's just me and the court," he said. "If I do bad, I lose. If I do good, I win."
While back home, Nuez attended a tennis academy where he practiced six hours a day, six days a week. At one point, he was ranked No. 12 in Spain.
"I knew about him for a while. I had him on the radar when I was recruiting a class two years ago," Benitez said. "I was aware of the type of tournaments that he was playing, and he had a couple of really good wins that summer and it was really impressive."
Once it came time for him to attend college, Nuez chose UTA because of the environment and the coaches. He said he chose to attend college in the U.S. because back home, combining sports and studies is not an option.
"It's all about his determination. He wants to be a tennis professional. He wants tennis to be his profession. He's utilizing college as a chance to get him there, and at the same time, he's going to get a really prestige degree. He's doing it the right way," Benitez said. "The American education system allows you to do both, so why not take advantage of it? Teme realized that."
After committing to UTA and receiving a full ride, Nuez said he was happy because it took the financial pressure off his parents.
"[My parents] are really thankful to UTA to give me the scholarship," he said. "I have the same that I had in the tennis academy, but I have it here without paying that much money."
His freshman year, Nuez dominated on the court while opening the eyes of everyone around him, Benitez said.
"Sometimes, coaches have the mentality that if a freshman comes in, it doesn't matter how good he is, he cannot play at the top of the lineup," Benitez said. "Teme wasn't the case, you know. It's not like he taught us something. He made us realize that it is indeed a possibility that somebody can come as a freshman just being mature enough to take on the responsibility of playing higher in the lineup."
During his freshman year, Nuez competed at the Harlingen Country Club Men's $25,000 Futures. Although he didn't win the tournament, Nuez made it to the semifinals and earned eight Association of Tennis Professionals points.
"Eight ATP points is a lot, especially for a freshman in college. There's a lot of players that have been playing close to five or six years, and they haven't even been close to getting eight points," Benitez said. "It provides a lot for the university that our players aren't only doing good in the college area, but also in the professional area."
Now in his junior year, Nuez is the team captain. Benitez said it wasn't a difficult decision because of everything Nuez has done for the team.
"He's looked up to by the entire team," Benitez said. "He plays a great role being the bridge between the team and the coaching staff when there needs to be a bridge. It's one channel of communication that we have, and I think he's very well deserved to be the captain."
Junior Mauricio Del Rio said he sees Nuez as a leader because of his personality and how he tries to do everything right, making him a good role model.
"He's taught me to always look on the positive side," Del Rio said.
While many look up to him on the court, Nuez also has a mentor: David Ferrer, a Spanish professional tennis player.
"He's not like [Rafael] Nadal, he's super talented. He is the top Spanish player because he has worked a lot," Nuez said. "He has gone to the top, but because of his hard work, and I really like people that work hard."
Almost 5,000 miles from home, Nuez said he always misses his family.
"My father and mom, they are always there for me. Also in the bad moments when there is nobody to support you, they are always there," he said.
Nuez said his goal after college is to become a professional tennis player.
"I will try to give, like, almost all of the money that I can earn – if I can reach that goal – to my parents," Nuez said. "They are the ones that have [invested] in me and without them I wouldn't be here."
@nanavedia