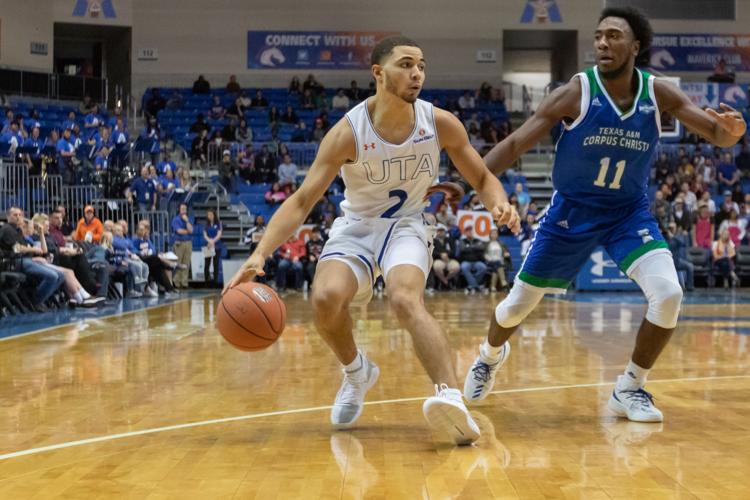 Despite a little boost from NBA all-star Kevin Durant, the men's basketball team (2-1) fell in a 73-67 nail-biter to Texas A&M University Corpus Christi on Friday at College Park Center.
"In a loss, as a coach, you just start rewinding things you could have done better," head coach Chris Ogden said.
What started off as a neck-and-neck battle in the early minutes of the first half turned into a double digit advantage once the Mavericks got their momentum going.
Junior guard Brian Warren opened up the scoring for UTA, dropping back-to-back 3-pointers to give UTA the lead. Warren saw 19 points in the first half, breaking the double digit mark just six minutes into the game.
The Mavericks dropped a back-and-forth game against Texas A&M Corpus Christi on Nov. 16 at College Park Center. UTA was lead by junior gua…
Warren said seeing Durant on the bench gave him an extra push, but it wasn't the same for the others. Some people got starstruck, but it just comes with having an NBA star on the bench, he said.
Freshman forward Patrick Mwamba went down early in the first half and was out for the rest of the game. Ogden didn't have any updates on Mwamba's condition but praised the players who stepped up in his absence.
Trailing by five toward the 10-minute mark, TAMUCC went on a 4-0 run to make it a one-point game.
From there, the Mavericks responded with a few fast break layups to pull away and gain as much as a 13-point advantage over the Islanders.
TAMUCC managed to close in on UTA in the latter part of the first half to trail by nine at the break.
Entering the second half, the Islanders knotted the game up at 48 within the first six minutes.
"I didn't think we playing hard. I didn't think we were playing with any intensity," Ogden said. "They had all the momentum, and we didn't do anything to stop it."
From there, each team exchanged shots, keeping it close.
With about three minutes on the clock, UTA held a slim advantage until TAMUCC regained its lead.
Everything came down to the final seconds in a battle at the charity stripe, but ultimately, the Islanders walked away with the win.
"[TAMUCC] outplayed us tonight," Warren said. "That's what it really came down to: who played the hardest." 
Warren ended the night with a game-high 27 points.
The Mavericks return to the court to host the University of California, Davis at noon Sunday at College Park Center.
@nanavedia