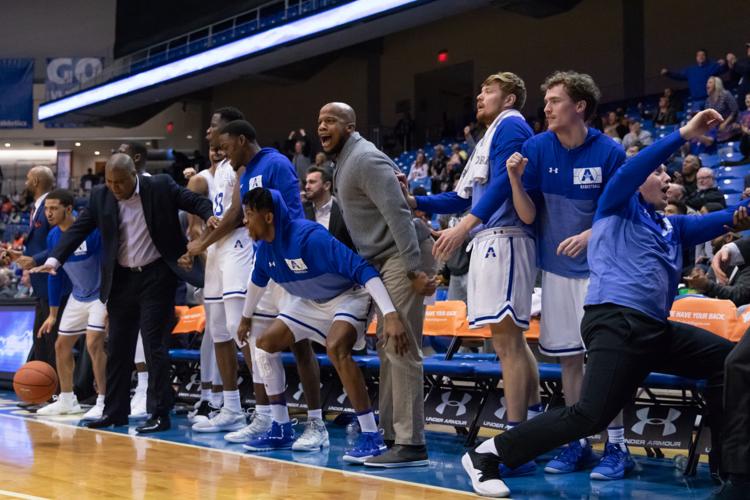 The men's basketball team (7-11, 3-2) secured its third straight victory against Arkansas State University on Thursday at College Park Center.
Head coach Chris Ogden said he was glad to be back home after the team's two-game road stand against Appalachian State University and Coastal Carolina University.
"It feels good to have a home crowd and a good energy in the building," Ogden said. "We've been on the road so much this year, it just feels good to get back and sleep in your own bed and see people you know."
The Mavericks had to overcome a slow start as they shot 0-6 from the field in the game's opening minutes. It looked like the Red Wolves were going to capitalize on UTA's cold streak when they took a 7-0 lead less than six minutes into the first half. Junior guard Andres Ibarguen opened the scoring for the Mavericks when he pushed in a soft layup off the rim for two points.
UTA clawed back into the game halfway through the first half as it went on a 7-0 scoring run to tie the game at 13-13. Arkansas State was forced into a scoring drought that produced four turnovers.
Junior guard Edric Dennis closed out the first half leading both teams in scoring with eight points. The Mavericks finished the first period shooting 9-18 from field, making their 1-10 shooting start a distant memory. The team went into the locker room with a 27-18 lead.
The Mavericks did not relinquish their lead for the rest of the game. Both teams scored 41 points in the second half, but UTA's first half lead ultimately played a big role in giving the Mavericks a victory.
UTA defeated Arkansas State by a score of 68-59 behind Dennis' season-high 25 points.
"I just saw gaps where I can attack and get through them and get fouled or make a play for me or my teammates," Dennis said. "I was just trying to take what the defense gave me."
Thursday's win gave the Mavericks their third-straight win. Dennis said the team will try to enjoy the win before having to prepare for its next game.
"Tomorrow we come in and focus on Saturday," Dennis said. "We've gotta get right back to it."
The men's basketball team returns to the court against the University of Arkansas at Little Rock at 2 p.m. Saturday at College Park Center.
@c_amaya7