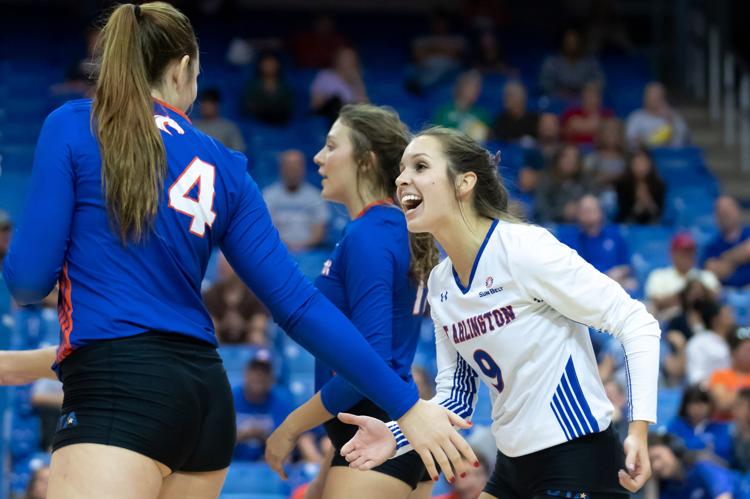 With its regular season in the rearview mirror, the fifth-seeded UTA volleyball team (15-11, 9-7) is set to compete in the Sun Belt Conference Championships on Thursday in Georgia.
"A lot of us want it, we want to win," senior middle blocker Zhanelle Geathers said. "We just know when we play good volleyball, we can beat anybody."
In its second season under the direction of head coach J.T. Wenger, the volleyball team is entering the conference tournament with a winning record and as a top-five seed, compared to last season's sixth-seeded 13-17 team.
"There was some uncertainty on what the program was going to look like," Wenger said. "I'm proud to say that the returners and the newcomers all worked hard and that the program is doing well and we're playing pretty good volleyball right now."
UTA topped the Sun Belt charts this season, leading the conference in digs with a total of 1,573 digs, 16.22 per set.
"We've had a couple stretches throughout the season where we've been playing pretty high-level volleyball," Wenger said. "When our opponents give us an edge, we've taken advantage of it."
On the offensive side, the Mavericks finished eighth in hitting percentage at 0.196 percent, as well as sixth in kills, with 12.41 per set. Top-seeded foe Texas State University led the conference in both categories, with a 0.264 hitting percentage and 14.05 kills per set, respectively.
The team looks ahead to the conference tournament with a determined mindset, junior libero Madelyn St. Germain said.
"We've been more determined this season to actually go and win it, not just getting to the conference tournament," she said. "In years past, we had doubt that we weren't going to win, and I don't think that there's any doubt this year that we can win it."
St. Germain, a two-time defensive player of the week, finished second in the league for digs, with an average of 4.52 per set — a total of 437.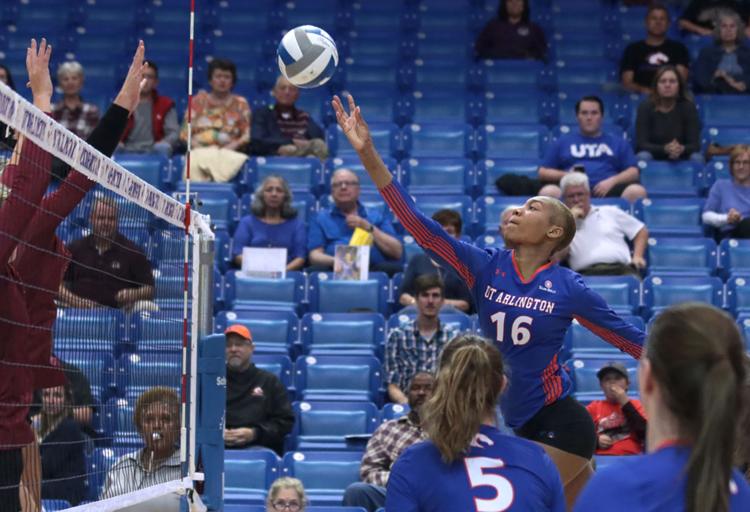 As the team's kill leader and three-time offensive player of the week, junior middle blocker Madison Hill concluded the regular season as the conference's leader in hitting percentage at 0.399 percent.
In addition to Hill, junior outside hitter Kylie Jedlicka, who suffered a rib injury earlier in the year, finished ninth in kills, with an average of 2.93 per set.
"She hasn't won a lot of awards, but Kylie Jedlicka has done a real good job," Wenger said. "Through last spring, as a coaching staff we weren't sure, physically, what she was going to be able to do, but she's come back and had a real nice season."
Two teams have gone undefeated against the Mavericks in conference play this season: the University of Louisiana at Lafayette and Texas State. The Mavericks fell to the Texas State Bobcats in their regular season finale just short of a 10-win conference record, a feat the program hasn't achieved since 2016.
"We are looking forward to the tournament," St. Germain said. "We have unfinished business with a lot of teams, so no matter who we play, it's going to be a really good game."
The Mavericks are set to face Troy University in the first round of the Sun Belt Conference Championships at 6:30 p.m. CST on Thursday in Atlanta, Georgia.
"We've had some stretches where we've won a bunch of matches in a row," Wenger said. "That's ultimately what we are going to have to do here for us to finish out as strongly as we can."
@Saint_Dallas