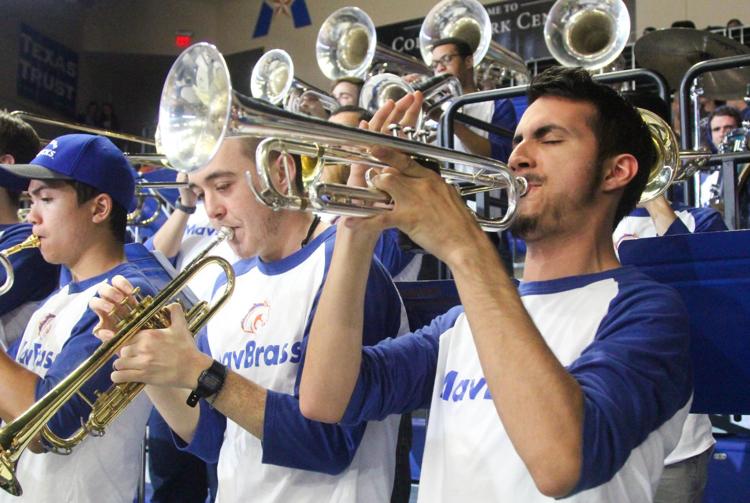 "You let the whole team down!" and "You can't do that!" chants fill the College Park Center for every men's and women's basketball game. The chants, used to heckle opposing teams, aren't started by UTA fans.
The MavBrass Basketball Band leads the charge when it comes to getting into an opponent's head.
"It's one of those things that can make or break, really affect the atmosphere and how the team is doing," MavBrass director Chris Evans said about the group's impact.
The pep band has been a UTA tradition for decades, according to Evans. The group is generally always present to support the men's and women's basketball teams at home and tournament games.
Evans said he has heard feedback from opposing fans, but he tries to keep his group civilized, never attacking one person.
"There's times they don't like us. I try to make sure that everything we do is part of the game. We try to refrain from personal attacks." Evans said. "We make sure that we're talking about the game and not the person."
Music education junior Zoe Vande Kieft is currently in her first semester as a clarinet player for MavBrass. It hasn't taken long for her to recognize the impact the band can have on games.
"We totally decide what kind of feel the game has, whether it's light-hearted or more intense," Vande Kieft said. "When we don't shout, a lot of other people don't feel like they can, so it makes it a little bit easier for everybody to participate."
Krista Gerlich, women's basketball head coach, said she believes the band has taken on the role of the student section during games.
"Every game that they're here, they help us," Gerlich said. "Unfortunately our student section hasn't been great for the Lady Mav games, so they are our student section. I love the fact that they stay involved."
Gerlich said she wants to encourage the members of the band to keep attending games and having fun. She said she would want to be a member of a band if she weren't so heavily involved with athletics.
"If I wasn't an athlete, I would love to be in a college band," Gerlich said. "You don't have to be nervous, game day is not nervous. That's fun time."
The head coach said she believes the band helps fill the arena and hopes more student organizations become involved with both basketball teams.
"It gives us school spirit, our kids enjoy playing in front of them," Gerlich said. "That's the atmosphere that you want to put out there. That's about being proud of your university and having school spirit. They're a huge part and we want to just continue to ask people to keep coming. 
@c_amaya7