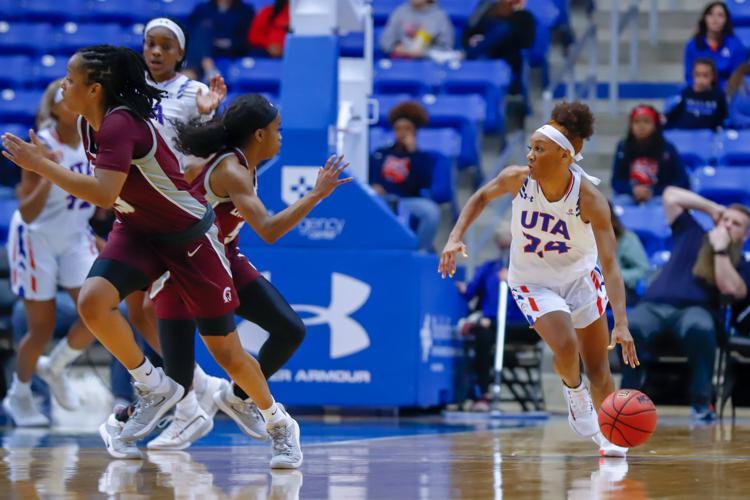 Streaks are meant to be broken.
With its 65-58 win over the University of Arkansas at Little Rock on Saturday at College Park Center, the women's basketball team (8-6, 2-0) ended a 10-game losing streak against the Trojans.
The Lady Mavericks' last win over Little Rock came in 2006, well before UTA joined the Sun Belt Conference in 2013.
Head coach Krista Gerlich said Saturday's win over the Trojans was huge for the program.
"It's like a monkey is off our back for sure," Gerlich said. "That's one of the steps, one of the boxes that we want to check."
Throughout the first half, UTA and Little Rock traded the lead 10 times. At that point in the game, UTA's largest lead was five points, and they secured that advantage to close out the second quarter when they went into the locker room with a 35-30 lead.
Senior forward Marie Benson led all scorers after the second quarter with 15 points on 7-9 shooting.
The Lady Mavericks shot 50% from the field in the third quarter and managed to close out the period with a 52-40 lead. UTA did not surrender the lead throughout the rest of the game, but Little Rock closed the gap at multiple points in the fourth quarter.
Little Rock outscored UTA 18-13 in the fourth period, but six points from sophomore guard Terryn Milton helped the Lady Mavericks put the game away.
Milton, who played 36 minutes and scored 12 points, said her team has a new mind-set heading into its first conference road game of the season against Appalachian State University.
"We know App State is a hard team," Milton said. "It's just about us knowing what we can do and us just playing hard. If we play hard, good things are gonna happen, always."
After UTA's game against Appalachian State on Thursday in Boone, North Carolina, a nearly five-hour road trip to play Coastal Carolina University in Conway, South Carolina, awaits.
Gerlich said her team will have to prepare hard on Monday, Tuesday and Wednesday before getting on the road.
"It's a brutal road trip, there's no doubt about that," Gerlich said. "I know our kids are not gonna overlook anyone."
The women's basketball team will play Appalachian State at 5:30 p.m. Thursday at the Holmes Convocation Center in Boone, North Carolina.
@c_amaya7