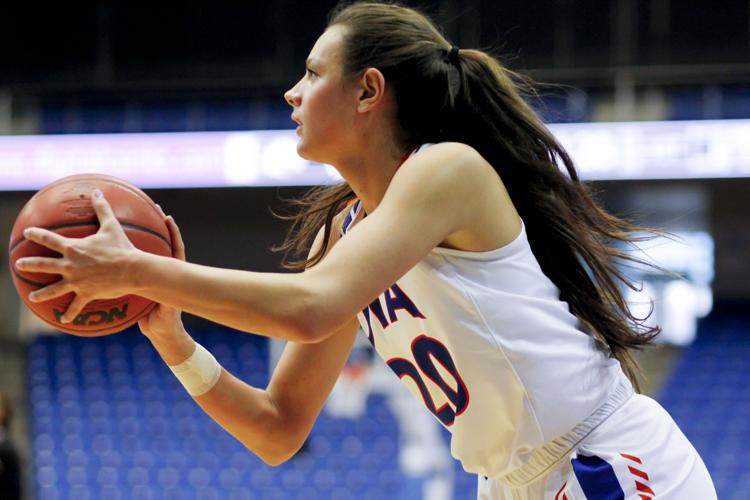 As regular season conference co-champions, the women's basketball team (23-6, 15-3) is heading directly to the semifinal round of the Sun Belt Conference Championships.
The University of Arkansas at Little Rock and UTA finished with an even record in the league standings. The Trojans, however, claimed the No. 1 seed because they defeated the Lady Mavericks in both of their head-to-head matchups.
Head coach Krista Gerlich said having a triple-bye will help the team rest and prepare, but UTA will need to battle first-game jitters. UTA's opponent, to be determined, will have already dealt with that issue, Gerlich said.
"You always have to go out and throw the first punch," she said. "Our kids will really have to battle that part of it. You better raise your level of play when you get to the tournament."
During last year's run at the Sun Belt Conference Championships, UTA fell to the University of Louisiana at Lafayette in the quarterfinal round. Now, UTA skips that round altogether and is two wins away from reaching the NCAA tournament.
Senior guard Cierra Johnson said everyone will be a little nervous, but the team must overcome that to have a successful tournament.
"I just want everyone to be calm, cool and collected and act like you've been there, done that," Johnson said. "We have a lot of young freshmen, so it's going to be hard for them to really understand that."
Johnson has been the cog that pushes the team forward, averaging 15 points per game this season. She leads the team with 145 field goals made and is shooting 82.9-percent from the free-throw line.
Freshman guard Terryn Milton said the team has had its ups and downs, but it has been able to overcome every obstacle faced this season.
"We have a great team, and we have stability," she said. "It's not really the time to be nervous. It's a time to be excited because we can do something special."
This year has been Gerlich's most successful at UTA, topping her effort from the 2016-17 season. She's one win away from tying former head coach Donna Capps' 24 wins in the 2006-07 season.
If Gerlich wins the next two games, she could record a historic season for UTA women's basketball.
Gerlich said the team has plenty of depth this year, and she needs everyone to play at their peak if they are to reach the NCAA tournament.
"It would be really exciting to be able to get yourself in the dance and be in the top 64 teams," she said. "We certainly have our eyes on the prize."
The Lady Mavericks will play their decisive semifinal game at 2 p.m. Friday at Lakefront Arena in New Orleans, Louisiana.
@_julio_vega