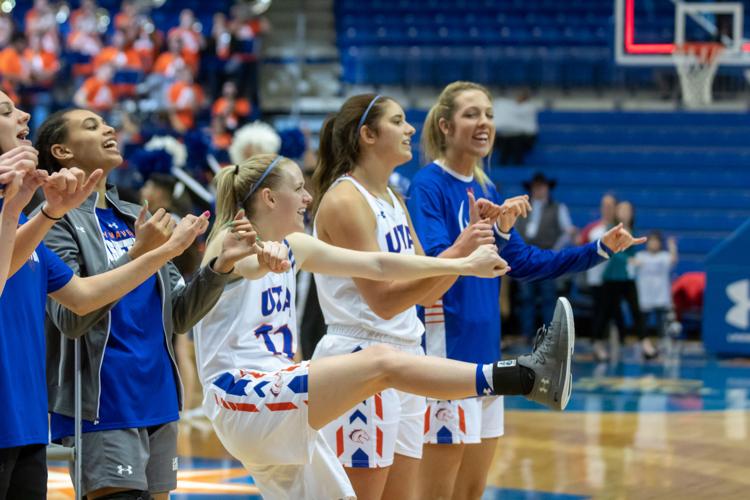 In a battle between in-state foes, it was the final seconds that set the women's basketball team (7-2) apart from UT-San Antonio on Thursday at College Park Center.
The Lady Mavericks returned home from a lengthy road trip to defeat the Roadrunners 53-48 while extending their win streak to five games.
After almost a month on the road, standing under their home court lights was a sight for sore eyes, head coach Krista Gerlich said.
"Today I went in to write on the board for pregame, which is what I normally do, and it was very weird," Gerlich said. "I was like 'Oh? This is my locker room.' "
UTA got off to a slow start in the first half, shooting just 20 percent from the field. The game stayed closed throughout the first two quarters, each team unable to take more than a five-point lead.
The score was knotted at 19-19 heading into the break, and while UTA was averaging about 10 points per quarter, Gerlich had a game plan to get her team going.
Fatigued but motivated, the Lady Mavericks scored more points in the third quarter than they did in the entire first half. The third quarter was the layer of insurance UTA needed to pull away from the head-to-head matchup, taking a 40-35 lead going into the fourth.
"We just had a better rhythm. I thought we attacked better, and we had a better tempo to the game," Gerlich said about the team's third quarter performance. "We play a lot better when we play a little faster."
Senior guard Laurynn McGowen, who lit the fire for UTA in the third quarter said she was trying to lead by example when finding a way to encourage her team. With UTA holding on by a slim margin, UTSA crept up on the lead with just two minutes to play.
Trailing by two points with 52 seconds on the clock, senior guard Cierra Johnson made the crowd go wild with a fastbreak layup to tie the game and a free throw to take the lead.
Cierra Johnson later connected on a jumper and sophomore forward Kelsey Johnson knocked down a pair of free throws to put the game out of reach.
Three players ended the game in double digits. McGowen and freshman guard Terryn Milton put up 11 points each while sophomore guard Brooke Alexander finished the game with 10 points. Before fouling out, freshman forward Katie Ferrell grabbed a game-high 10 rebounds.
The Lady Mavericks turn around to play their third game in six days against the University of Southern California at 2 p.m. Saturday at College Park Center.
"We need to be mentally focused more than anything, then figure out how to play through adversity because we're going to be tired," McGowen said. "As long as we're mentally focused, I feel like we'll be fine because our bodies can go further than what we think they can."
@nanavedia