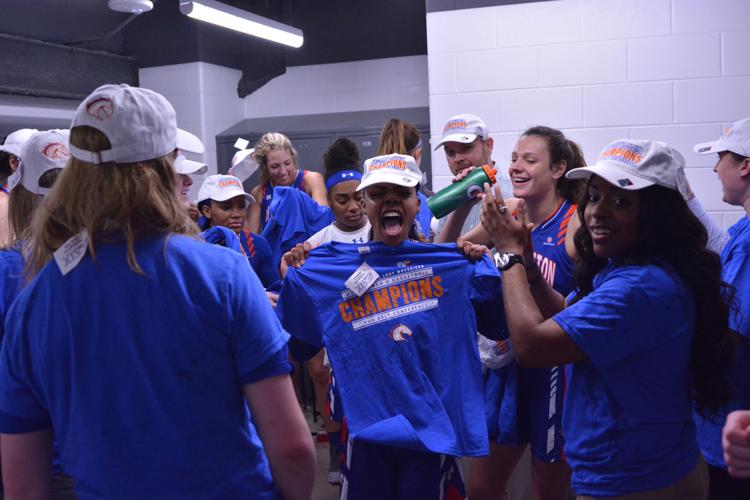 The women's basketball team (23-6, 15-3) produced a 44-41 comeback win over Texas State University to take home the Sun Belt Conference regular season title.
THAT CHAMPIONSHIP FEELING!!! pic.twitter.com/lssGT3XEa0

— Lady Mav WBB (@LadyMavHoops) March 9, 2019
The win was enough for UTA to share the crown with the University of Arkansas at Little Rock, which both end their regular seasons with a 15-3 conference record.
UTA will be seeded No. 2 in the Sun Belt Conference Championships while Little Rock will take the No. 1 seed based on head-to-head records.
The achievement marks the first regular season conference title under head coach Krista Gerlich. The crown breaks a 10-year drought for league titles dating back to 2008-09 when UTA played in the Southland Conference.
Hey @CoachGerlich ... that net looks good on ya! pic.twitter.com/3boqtc2PKE

— Lady Mav WBB (@LadyMavHoops) March 10, 2019
The Lady Mavericks trailed to the Bobcats for much of the game until the final minutes of the fourth quarter, closing an 11-point deficit from halftime. Freshman guard Terryn Milton and junior guard Aysia Evans led the team in scoring with 12 points apiece.
With a triple-bye in hand, UTA qualified for the semifinal round of the 2019 Sun Belt Conference Women's Basketball Championships. Its first matchup will be at 2 p.m. March 15 at Lakefront Arena in New Orleans, Louisiana.
@_julio_vega