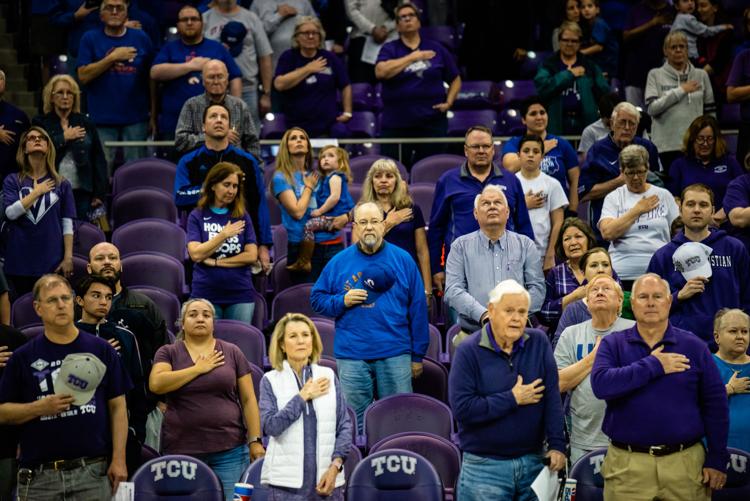 FORT WORTH, Texas — Blue and orange filled the purple seats of Ed & Rae Schollmaier Arena on Saturday as the women's basketball team stepped into Horned Frog territory for a Tarrant County showdown.
UTA faced off against Texas Christian University for round two of the Women's National Invitation Tournament, hoping to advance to round three, but ultimately fell short 71-54.
From Arlington City Manager Trey Yelverton to President Vistasp Karbhari, the UTA and Arlington communities made the trip to TCU to support the Lady Mavericks.
Head coach Krista Gerlich described the game as a championship environment. The presence of the UTA fans gave her chills, which is what March Madness is all about.
"What an amazing environment that we just played in, to have so many Mavericks in the stands," she said. "It's the start of something really great, I think, for women's basketball at UTA."
Yelverton, who donned a personalized UTA jersey with his name on the back, said he felt as if there were as many UTA fans as TCU fans and was happy to see the turnout.
"I came out just to do my part and support my university, support our team and show pride in UT Arlington," Yelverton said.
Following the team's historic 60-54 victory in the first round of the tournament, Gerlich grabbed a microphone, praised the fans and called on them to support the team against TCU.
"Girls can play basketball, too, baby," Gerlich yelled out to the stands of College Park Center on March 21.
With it being about a 30-minute trip from UTA to TCU, Athletics Director Jim Baker said Karbhari helped fund the buses that brought students over to the arena, where at one point the roars of Mavericks fans overpowered those of the Horned Frogs.
While the turnout didn't quite reach the thousands of fans seen supporting men's basketball, Baker said he wants to show students that they can have fun at both men's and women's games.
Baker credited the continued growth of the women's basketball team to Gerlich, praising the rise of the program's development from a four-win season to competing in national tournaments.
"When she got here, there wasn't much," he said. "It's a tribute to her and her staff's hard work that they've done over the last six years."
@nanavedia