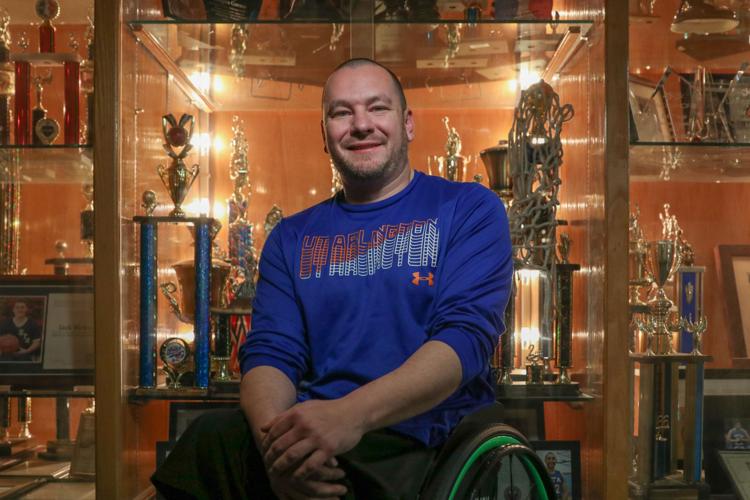 The name Jason Nelms carries a lot of weight in the wheelchair basketball world.
Leading the Lady Movin' Mavs to two national titles in three years has only added to that.
His six seasons as head coach are forming a dynasty for the women's team similar to that of Jim Hayes' dynasty during the early years of the Movin' Mavs.
Hayes was a pioneer for disabled students at UTA. He created the wheelchair basketball program in 1989, winning seven NWBA intercollegiate championships before his death in 2008.
"My ultimate goal is to beat that legacy," Nelms said. "My actual goal is chasing as many banners as [the Movin' Mavs] have up there so that one day we have more than them."
Nelms was a Movin' Mav under Hayes from 2000-2005, winning the 2002 national title. So he knows the weight of the program's history.
He wants the Lady Movin' Mavs' prestige to rival that of the men's.
Senior Abby Dunkin put it simply.
"For our generation, he's our Jim Hayes," she said.
Nelms was brought in as a volunteer assistant coach in 2008 by Movin' Mavs head coach Doug Garner, who took over after Hayes' death. Garner said Nelms was always an ideal candidate to be a coach for the future.
"He kind of checked all the boxes as far as being a UTA person, playing on the men's team here, being a USA player, being an international player," Garner said.
As a point guard, Nelms learned to be aware of what happens on the court at all times. He uses that attribute as an advantage in his coaching.
Nelms' professional playing days include stints with the Denver Rolling Nuggets, the Dallas Wheelchair Mavericks and even the chance to play abroad with Santa Lucia Roma in the Italian Serie A in Rome, Italy.
"Anytime you can get someone of that basketball pedigree that he has, [it makes] UTA the top choice for top players," Garner said.
Nelms called on a sophomore from the University of Memphis with Paralympic ambitions to lead the program at its birth.
Her name: Morgan Wood.
Wood was the only full-time player on the 2013-14 squad. Often, it was only her and Nelms in the gym running through drills for much of the season. It was during those one-on-one three-hour practices that she learned the most from Nelms, making her the player she is today.
The following season, Nelms recruited Dunkin, Rose Hollermann and Mikila Salazar, all as freshmen. Along with Wood, these players eventually became the foundation for a successful team in future years.
Nelms said he has enjoyed watching his players progress day by day, from struggling amateurs to becoming "studs."
"Everybody has their own individual strengths," he said. "The coolest thing is being in the gym every day and to pull those out and find them."
That paid dividends in 2015-16 season, when the Lady Movin' Mavs claimed the program's first-ever national title — something no one expected after the previous season's last-place finish.
"I don't think any of us thought that we were going to win," Wood said. "We were just having fun playing together and playing for each other. And [Nelms] was a big aspect in that. He was so motivational that season."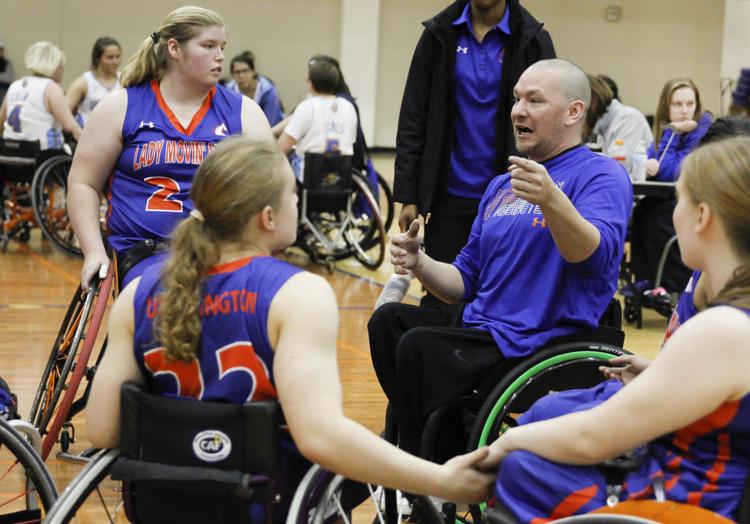 Wood said she probably wouldn't have come to UTA had Nelms not been the coach. She credits all of her growth and accomplishments to him, which includes a call up to Team USA.
Dunkin said Nelms and Wood are the two that really put the program into motion to get it as good as it is now. She said he's the reason players come to UTA and end up playing for Team USA.
"He's a coach that really gives his time and effort explaining things," Dunkin said. "He's definitely the reason why I've been able to be successful in the USA team and compete at that high level."
This year, seven current team members are representing their country in hopes to qualify for the 2020 Tokyo Paralympics.
Championships and national teams aside, Nelms said seeing his players grow every day, on and off the court, is his biggest pleasure.
"I've just fallen in love with the process of recruiting and training and seeing our girls graduate," Nelms said. "It's been one of the most rewarding things that I ever could have done."
@_julio_vega