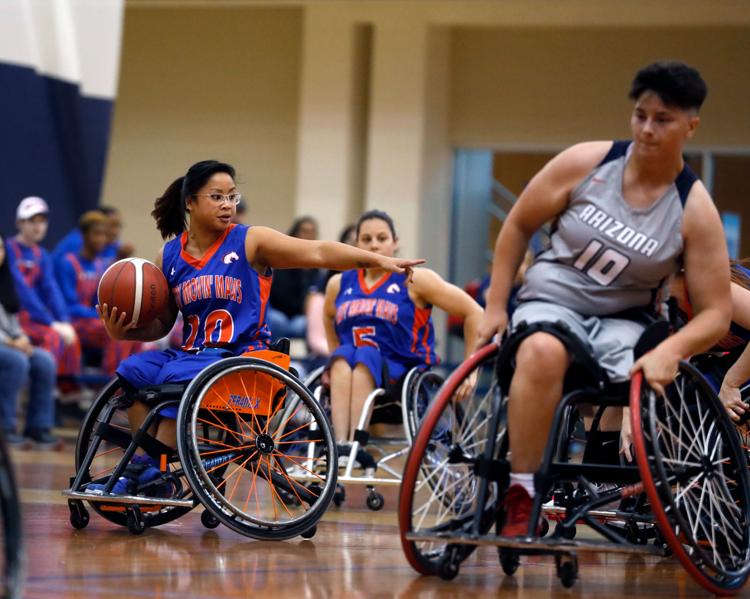 Day two of the Jim Hayes Invitational Homecoming Tournament saw the Movin' Mavs and Lady Movin' Mavs face their first collegiate opponent, the University of Arizona, on Friday.
Movin' Mavs 78, University of Arizona 40
UTA stormed to a 8-2 lead early, catching Arizona cold. Senior Clarence McCarthy-Grogan scored an early and-one to set the intense tone as the Movin' Mavs led 23-14.
The Movin' Mavs' intense high-pressing play caused problems for the Wildcats' defense, who often struggled to get out of their own back court. Arizona tried to break the press with long passes forward that would work sparingly, often being recovered by UTA.
Head coach Doug Garner said their high-press was something they experimented with and, although it needs some improving, their speed made it work.
Senior Fabian Romo made an impact in the first half, scoring 16 points and often leading UTA's transition. Along with McCarthy-Grogan's 11-point first half showing, UTA ended the half up 39-24.
McCarthy-Grogan said the team stuck with its game plan against Arizona, which led to points from players across the board. He said it was about 37 minutes of good basketball with plenty of options in attack.
In the second half, the Mavs didn't let up as Romo added another 10 points to his tally. He said they talk about playing with intensity in practice, and the team took advantage of Arizona's lack of it throughout the game.
UTA held Arizona to 16 points in the second half as the game ended 78-40. Garner said holding opponents to 40 points is one of the keys to winning.
"The guys really kept the intensity up because they wanted to hold them to 40," he said. "In the past, sometimes we get up and relax a little bit."
Lady Movin' Mavs 50, University of Arizona 27
The Lady Movin' Mavs defeated the University of Arizona 50-27 in the second game of the 2019 Jim Hayes Invitational Homecoming Tournament.
UTA controlled most of the game with a balanced defensive game plan. Arizona did not score a field goal until the six-minute mark in the first quarter as UTA's defensive scheme gave Arizona problems throughout the game.
Arizona turned the ball over on various drives because of shooting clock violations that were caused by UTA's defense.
Head coach Jason Nelms said the team's defensive assignments were meant to disrupt Arizona's offensive flow.
"Making sure that they're paying attention to the number one and number two threats that are out there at all times," Nelms said. "A couple of times they lost them in that second group, but throughout a couple minutes they got a little bit more comfortable, settled down [and] finally started to find them."
Sophomore Annabelle Lindsay had 16 points in the first quarter as the Lady Movin' Mavs took advantage of several scoring opportunities in transition.
"It was a very quick game for us, so when we're pressing, we got a lot of intercepts, so we were able to really push the ball down the floor," Lindsay said.
Junior Angelina Welfle finished the game with six points and was a part of a smaller lineup that led Arizona by 23 points in the second half.
"We killed it," Welfle said. "I think we executed every play on defense how we could."
The Lady Movin' Mavs will play Milwaukee and Dallas in a double-header on Saturday.
Movin' Mavs 64, Kansas City 38
The Movin' Mavs came out on top 64-38 against the Kansas City Predators in their second game of the tournament.
The offense was hitting on all cylinders for UTA as they went up by 19 points on Kansas City early in the first half. Eight members of the Movin' Mavs scored against Arizona.
Graduate student Antoine Gray had a dominating performance in the paint against the Predators. Gray led all UTA scorers with 14 points.
"Every time up and down the court we tried to outpush them, we tried to do a good job of keeping them out wide as much as possible [and] keeping the ball out [of] their big man's hands," Gray said.
UTA went on an 11-0 run in the second half, which put the game out of reach for Kansas City.
Senior Clarence McCarthy-Grogan, who finished with 13 points, said he acknowledges the importance of a good rotating bench.
"We're doing a really good job in starting the game, which helps bring guys off the bench to get some good minutes," McCarthy-Grogan said. "That helps our chances of actually winning and getting more scores in double figures."
Head coach Doug Garner said their execution in the half court offense against Arizona not only helped them control the pace of the game but also allowed them to get others involved, which can help them against other opponents.
"We kind of slowed the offense down a little bit. Our idea is to work everybody into the offense so that when we get to a team that's going to double team CJ or double team Antoine, we got somebody open," Garner said.
The Movin' Mavs will play in a triple-header against Houston, Tucson and the University of Arizona on Saturday. (
@OlmedoAEO and @_julio_vega