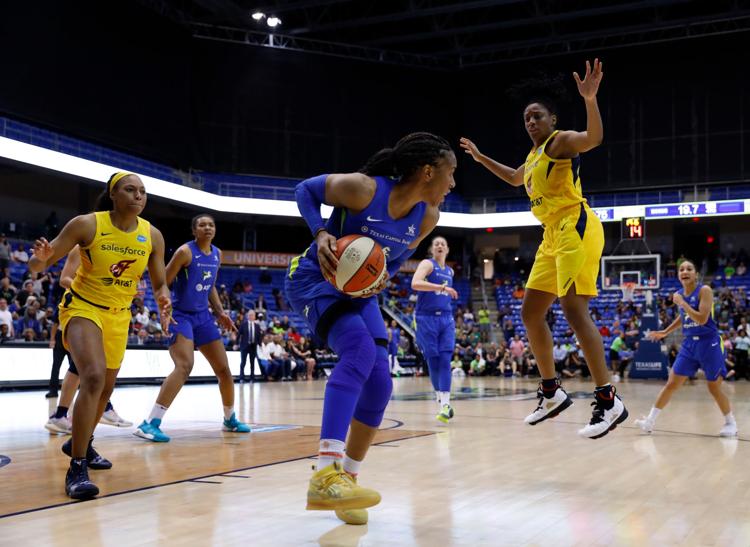 The Dallas Wings (0-5) extended their losing streak to five games as they fell at home to the Indiana Fever 76-72 Thursday at College Park Center.
The Wings sit last in the Western Conference standings and are the only winless team in the league. Including this game, three of the losses were by a margin of four points or less.
Forward Kayla Thornton led the charge for the Wings as her team-high 19 points and a trio of 3-pointers kept Dallas within striking distance of Indiana by the fourth quarter.
Thornton said she needed to do more for the team despite finishing just one point shy of Fever forward Candice Dupree's game-high 20 points.
Turnovers late in the game hurt the Wings' chances of closing out the game, Thornton said, but she believes the team will get over the hump eventually.  
Wings head coach Brian Agler said the loss hurt Thornton after her efforts fell short of handing the team its first win of the season.
"She put her heart into this game," Agler said. "When I talk about some of the intangibles and the traits of a championship team, that's the kind of thing you need to see when things don't go their way."
Guard Brooke McCarty-Williams and center Imani McGee-Stafford came off the bench, adding a spark to the Wings on the court. McCarty-Williams ended the night with seven points, three assists and two rebounds, while McGee-Stafford tallied 12 points and three rebounds.
Agler admitted the Wings are far from being a championship team, but the team is progressing in a positive direction.
"We've got to start putting in and establishing the building blocks," Agler said. "I'm starting to see some signs with some individuals, and so we'll lean on them heavily."
@_julio_vega