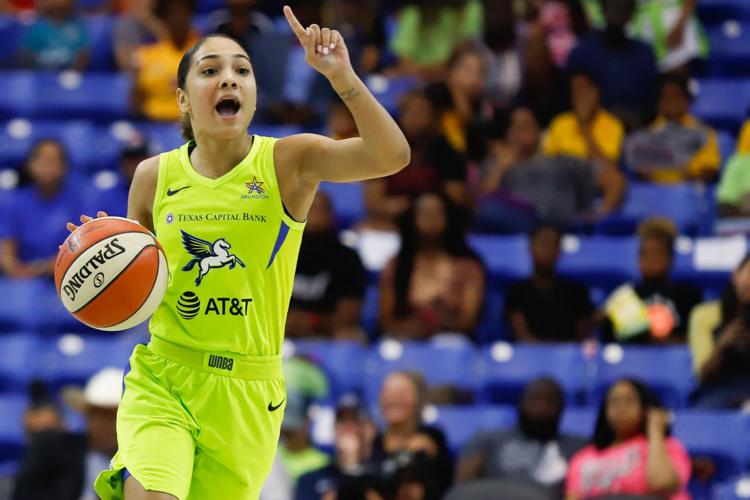 After a close loss on the road, the Dallas Wings (5-9) picked up a 74-62 win against the Los Angeles Sparks on Tuesday at College Park Center.
The Wings finished the matchup with four players scoring in the double digits. Forward Kayla Thornton led the way for Dallas with 17 points on 7-14 shooting from the field, while forward Glory Johnson and guard Arike Ogunbowale tallied 14 points each. Forward Kaela Davis scored 13 points.
"I just came in focused," Thornton said. "I didn't try to force [anything]."
Dallas outscored the Sparks in every quarter except the first. Los Angeles closed out the first period with a score of 20-16.
Johnson made her return to College Park Center against the Sparks after spending the last month representing Montenegro at the FIBA Women's EuroBasket 2019 tournament.
"I'm glad to be back," Johnson said. "They were super supportive, and I know that this team is willing to work hard with or without me here."
Thornton said she was glad to have Johnson back in the team's lineup. She said Johnson brings an energy that has been missing.
The Wings' victory against Los Angeles was also head coach Brian Agler's first against his former team. Agler said he still remembers the strong relationships he built with members of the Sparks.
"When you're with a team for four years, and you've won a championship, you have a bond that will always be there," Agler said.
Despite winning four of their last five games at home, Dallas has not been able to pick up a victory on the road in the 2019 regular season. Agler said he will focus on the team's next practice before focusing on picking up a road win.
"From my standpoint, we'll get our first road win when we deserve it and we earn it," Agler said.
Photos: Dallas Wings dominate with 74-62 victory against Los Angeles Sparks
The Dallas Wings faced the Los Angeles Sparks on July 9 at College Park Center.
The arena was filled with children from around the Metroplex for the Kids Day noon game. The Wings carried the lead for most of the game and defeated the Sparks 74-62.
The Wings will look to pick up their first away win when they face the Seattle Storm at 9 p.m. Friday at the Alaska Airlines Arena in Seattle, Washington.
@c_amaya7