The perks of the Division I lifestyle can be the free clothes, scholarships, travel and other amenities — but everything comes at a price. 
On average, these athletes spend nearly 30 to 40 hours a week dealing with the obligations of playing sports in college, according to Business Insider.
"The reason they have the benefits is because they have an astronomical amount of time demands," student development specialist Courtney Burken said. "They're working a full-time job and being a full-time student."
Student-athletes also have to manage 12 to 15 credit hours of classes a week as well as attend mandatory study sessions.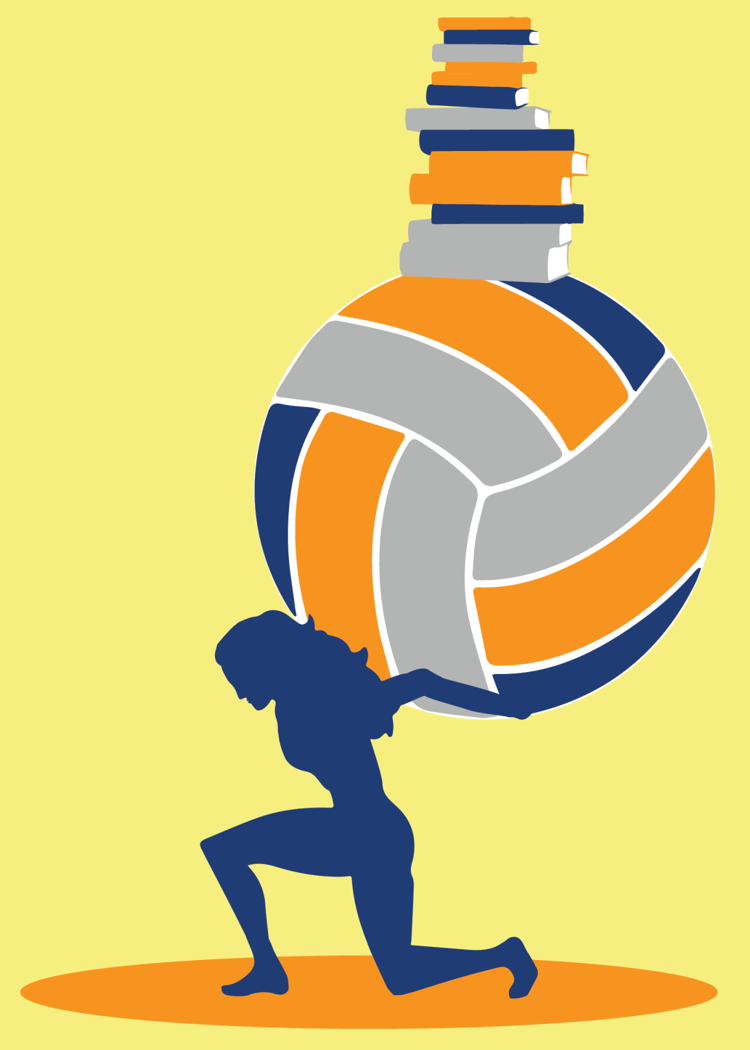 "Being a student-athlete, we're spending all of our time on the court working towards the goal of winning a conference championship," senior defensive specialist Libbie Vickers said. "Or spending our time or making sure that the academic standard is held."
Junior outside hitter Kylie Jedlicka said the life of a DI athlete can be stressful: having to manage the stress of dealing with a full load of classes and being a full-time athlete can bring anyone to their breaking point. Jedlicka discussed her personal battles of last season with the balancing act as her anxiety started to build up.
"You just get overwhelmed with stuff, but you just gotta remember, like, what you're really here for, what you need to do and what you love," Jedlicka said.
Head coach J.T. Wenger gave Jedlicka a personal day last season when she was dealing with the pressure of the demanding lifestyle. Jedlicka said having the day off helped her recover and get back into the swing of things.
Jedlicka said she believes Wenger has a true talent with being able to understand the mental health of his players and his responses in trying to help.
Wenger, who played volleyball in college, said there is a great importance to be motivated both on the court and in the classroom. Wenger said he believes the volleyball program offers great opportunities for the athletes both on and off the court.
"We are here to open the doors, but ultimately they need to be the ones that are going to walk through it, academically and athletically," Wenger said. "That's something that philosophically I just believe in."
As a walk-on student-athlete, Vickers said she faces a lot of financial struggles because she is unable to work a job during the season.
"I have to choose volleyball a lot over the option of going to get a job so that I can pay for school, food, gas and stuff like that," Vickers said.
While Vickers tries to work during the summer to earn money, she has been unable to intern because of her time constraints during the break. She said she was fortunate enough to get an opportunity to work for six weeks this past summer, but most internships require more of a time commitment.
The life of a student-athlete may be tough, but it's something Vickers doesn't take for granted.
"I wouldn't say I regret any of the opportunities I passed up, because playing college volleyball is an opportunity I only get once," Vickers said. 
@Saint_Dallas