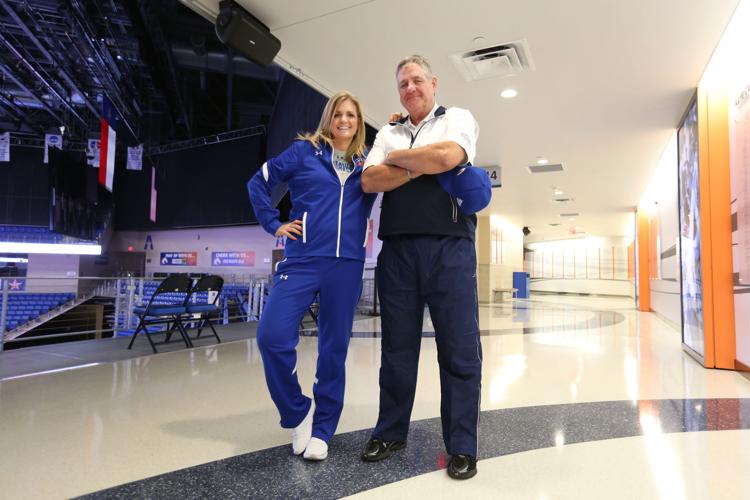 The men's and women's basketball head coaches have more in common than just the game of basketball.
Krista Gerlich, women's basketball head coach, and Chris Ogden, men's basketball head coach, were raised in small West Texas towns where both coaches found their love for the sport they coach today.
Despite being born in Perryton, Texas, Ogden spent his entire childhood and adolescent life in the small community of Seminole. The city of Seminole is about 80 miles southwest of Lubbock and about 78 miles northwest of Midland.
Ogden recalled having to travel to the bigger cities in West Texas to have fun with his childhood friends.
"It was small-town living," Ogden said. "To go to the movies and the mall and things like that we would go to Lubbock, and we would go to Midland."
He said his childhood activities included traveling to basketball camps and partaking in the festivities that accompanied weekly Friday night football games.
"I loved going to the football games and watching the football games," Ogden said. "Friday night lights; there's nothing like it, going to see Odessa Permian play and stuff like that. I'm still a fan of that."
Ogden went on to star for the Seminole High School boys' basketball team, being named the state of Texas "Mr. Basketball" during the 1998-99 season his senior year. The Seminole native is the only West Texan to receive the award in its history.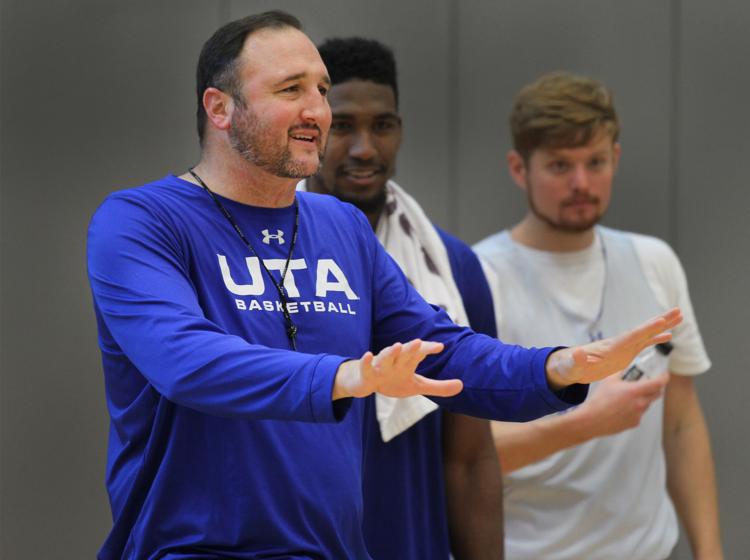 "You look at the names on that list and you wonder how you got there," Ogden said. "It's something I'm very proud of. It took a lot of work, a lot of sacrifice from the sense of I didn't necessarily do everything my friends did."
Ogden spent most of his free time practicing on a nearby basketball court or traveling to camps out of town.
While Ogden was making history in high school, Gerlich had already left a lasting legacy in a town 109 miles east of Seminole.
Gerlich won a state championship in 1987 at Sudan High School in Sudan, Texas. The championship team was led by head coach Jim Kirkland, Gerlich's dad.
She moved around the state multiple times because of her father's ever-changing career as a high school basketball coach.
Gerlich was born in Wolfforth, Texas, before her family relocated to Rockwall, Texas. After Rockwall, the family lived in small towns, like Claude, Silverton and Canadian. She ultimately ended up in Sudan, where she went to school from sixth grade through her sophomore year of high school.
She graduated from Spearman High School in 1989.
Gerlich said she found her passion for the game of basketball in Sudan, even though she graduated from Spearman.
"I went to the gym all the time. There was nothing to do; there was not even a public swimming pool," Gerlich said. "I was in there by myself half the time."
After Gerlich's graduation from Spearman, she went on to lead Texas Tech to a national championship in 1993.
The coaches' respective hometowns of Seminole and Sudan, Texas, are very similar because of their small populations and close-knit communities. Seminole currently boasts a population of about 7,500 people, while Sudan has a population of about 950.
Ogden described Seminole as a place where the residents truly cared about their community.
"They care about what's going on with their neighbors' kids," Ogden said. "They get invested in each other's lives."
Gerlich called Sudan a "basketball town." The community would gather around its high school basketball teams, even though football reigned supreme in the West Texas region.
"Sudan, particularly, was very basketball-oriented," Gerlich said. "Football was great, but it was a basketball town. Everybody loved girls' basketball."
The Sudan native was introduced to the game of basketball by her father. Gerlich was at her first game when she was only two weeks old, she said.
"I went to his basketball camps, you know, I always had an upper hand because I got to go when I was 4, 5, 6," Gerlich said. "Everybody else couldn't go until they were 8, 9 or 10, so yeah, I've been playing forever."
Gerlich also called her father the central figure in her decision to become a basketball coach. She said his passion for the game and the impact he had on his players were the reasons she wanted to try her luck at coaching.
She also credited her college head coach Marsha Sharp as a driving force behind her career decision.
"She was very passionate about her players. She's a West Texas girl as well," Gerlich said. "Having her be my college coach also just made me realize that those are the two I wanted to follow."
Ogden credited his father as the man who introduced him to not only basketball but sports in general.
He said one of the first individuals to take an interest in his playing style was Leland "Buck" Caffey.
"He was a guy that I kind of looked up to in a way and he coached me a little bit," Ogden said.
Ogden also said that one of his first real coaches was a man named Randy Clay, who was the father of one of his best friends.
"He coached us in youth league and really was the first one to really coach us and get on us," Ogden said. "He was a big figure in my basketball upbringing."
Ogden referred to Rick Barnes, current University of Tennessee men's basketball head coach, as the driving force behind his decision to become a basketball coach. He spent 12 seasons on Barnes' staff at the University of Texas, with seven of those seasons as an assistant coach. He also played under Barnes at the University of Texas from 2000-03, finishing his playing career at the university as a team captain.
"I didn't know if I wanted to coach or not," Ogden said. "He encouraged me to give it a try, and he gave me the first opportunity and gave me every opportunity to grow as a coach."
The tiny towns that raised Gerlich and Ogden instilled the values of hard work and caring for others that they apply to their coaching today.
"I learned how to work," Gerlich said. "I learned about teamwork and about serving others and helping one another."
Ogden learned his sense of community from Seminole and he said his upbringing taught him that coaching basketball is all about how you work with people.
"I think we're in the people business. I think when you look at players, they're different people from different backgrounds and different cultures. It's about that all melting into one pot," Ogden said. "My way of doing it came from my upbringing in Seminole and being open-minded."
Michael Eldridge, assistant athletic director for communications, said he believes both coaches' small-town upbringing helps them instill a sense of hard work in their players.
"[In a] small town you have to work for it a little bit more," Eldridge said. "You're not given things."
Gerlich and Ogden's hard-working values benefit their teams because they always focus on going the extra mile.
"Their personalities are both basically the same, they're both really hard workers," Eldridge said. "They both preach on and off the court success, and that's the biggest thing."
@c_amaya7