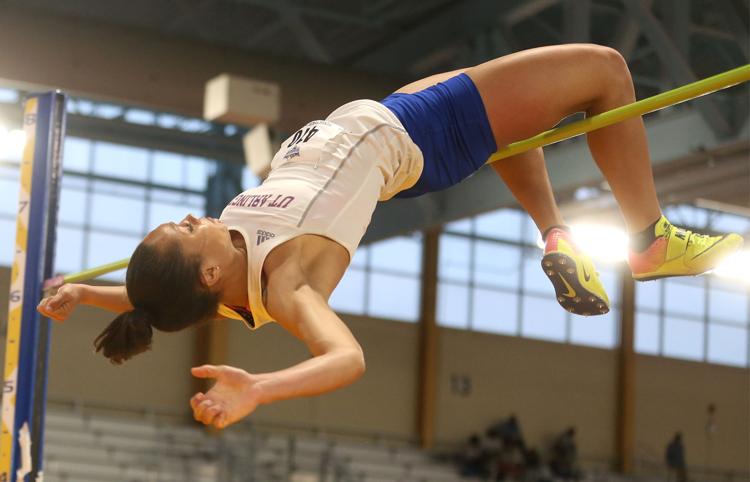 A national champion.
Holder of four individual school records.
UTA royalty.
Alexus Henry sits on a throne all to her own as the most successful female athlete to step on UTA's track.
Her four school records in the indoor high jump, outdoor high jump, pentathlon and heptathlon are unmatched; No current athletes can say they have the same number of records simultaneously.
John Sauerhage, track and field head coach, described Henry as UTA royalty, who makes up part of what he calls "UTA's Mount Rushmore" — track and field athletes who have won an NCAA individual championship. And there's only a few. This includes UTA alumni Gilbert Smith in the long jump in 1983 and McClinton Neal in the 400-meter hurdles in 1990.
The senior jumper became the first woman in UTA history to claim a national championship in track and field when she overcame the rainy weather and opponents at the 2018 NCAA Outdoor Track & Field Championships.
Her performance helped lead the UTA women's team to an NCAA Division I-AAA Athletics Directors Association 2018 National Team of the Year accolade.
Henry has God-given abilities of being an elite athlete, Sauerhage said. The combination of her talent and the hard work she has put in made her better than anyone else at what she does.
"Alexus has pop. Alexus is explosive," Sauerhage said. "Her quads, when she plants — boom! She can get up in the air."
Associate head coach Brandon Berger coaches Henry in the high jump and multi events. He said she prefers the high jump but he has been able to prod her into the pentathlon and heptathlon to fully take advantage of her talent.
Henry was a two-time state champion in the high jump for Bridge City High School where she also played volleyball and basketball. As a well-rounded athlete, Henry is motivated and driven to become the best in her preferred high jump.
At 5 feet, 7 inches tall, Henry is able to post jumps above 6 feet, including her personal best 6 feet, 1.5 inches. Achieving that height differential is what sets her apart.
"She may very well be the best 5-foot-7-inch tall high jumper in the world," Sauerhage said.
Although Henry is modest about her abilities, her drive resonates with her teammates. Sophomore jumper Imunique Billingsley said seeing how good Henry is at everything makes her want to reach those levels, too. Freshman multis athlete Jade Bontke said she looks up to Henry and hopes to match her ability someday.
"I've never seen someone love an event that much," Billingsley said. "She goes crazy over the high jump and she's very determined."
Berger said Henry's high jumping ability is stellar and all he has to do is fine-tune the small details. One such detail is the run up to the jump. Typical run-ups are more angled and curved, v Henry's run-up is more straight on, in a tighter curve.
Henry is able to translate the speed from her run-up into power for her jump. This varies from the typical wider curve, which uses more centrifugal force and a center of gravity to produce the jump.
Sauerhage said she has something in her that just makes her great. He can't explain it, he can only refer to it as "It." And Henry has "It." That's what makes her deadly.
"That's something you can't create," Berger said. "We've trained her a little bit better, but the gift she has is just what she has. You either got it or you don't, and she has it."
@_julio_vega