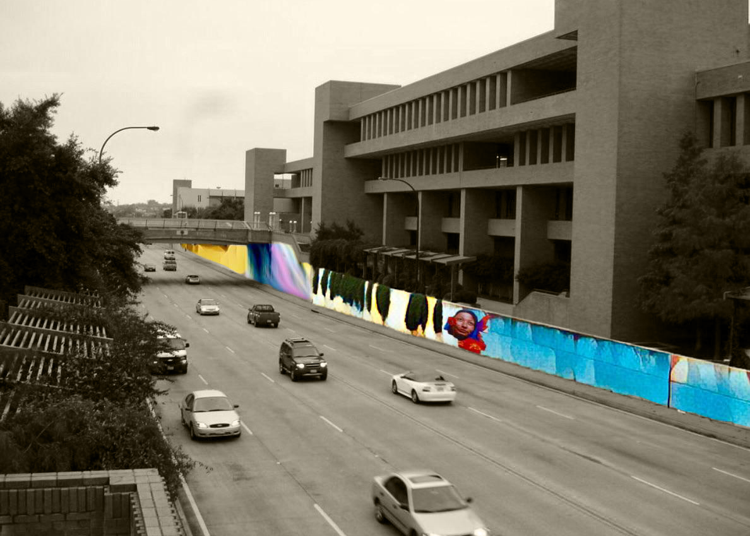 Picture this — you're walking right down the middle of campus on a bright, sunny day. Wind blows subtly through your hair, and you just made an A on that group project you've been dreading all semester. Life's good, right?
Wrong.
You look around and see nothing but decades-old buildings built with bricks of the same bland, neutral tones.
We have some of the best creatives on this campus, so shouldn't we look like it, too?
While the university has taken some steps to make the campus look beautiful, we still have a ways to go.
Instead of seeing the urban landscape as an eyesore, we should look at it as a canvas.
Last month, art professor Benito Huerta was commissioned to plan the creation of a sculpture to sit outside the Business Building facing West Street.
"A lot of universities around the state, around the country, have a public art program," Huerta said in an October interview. "Our campus is still growing, and I felt that art by various artists could help in humanizing the campus." 
Creating this sculpture for the Business Building is a step in the right direction, and the university should consider expanding these opportunities to the rest of the campus.
Earlier this year, the Downtown Arlington Management Corporation issued a call for Texas-based artists to help launch the Downtown Arlington Mural Project. The public art project aims to create three new murals for downtown Arlington.
The latest piece, located on the intersection of Mesquite and Division streets, was painted by artists Justin Simmons and Amy Stephens. It displays a wall filled with colorful images surrounding the word "love."
The blue and orange lights illuminating Cooper Street under the bridges connecting both sides of campus are a great touch, as is the beautiful landscaping tended by the groundskeepers from season to season. But there's plenty more to be done.
CommUNITY Voices columnist Cristobal Trujillo wrote in a letter to the editor last semester that murals flanking Cooper Street would give the university artistic personality and might alleviate the dullness of the current gray concrete.
"This little cheap project could go a long way in fomenting school spirit and maybe even become an incentive to renovate the dilapidated crossing bridges with some UTA swag," he said in the letter.
A campus beautification plan involving students, faculty and staff could be both a benefit for the people roaming campus and for the artists themselves.
We just need to keep the current momentum going. 
The Shorthorn Editorial Board is made up of Opinion Editor Shay Cohen, Editor-in-Chief Narda Perez, News Editor Samantha Douty, Life and Entertainment Editor Maxwell Hilliard, Copy Desk Chief Caitlin Sherrill, Sports Reporter Dallas Johnson and News Reporter Jacob Reyes.
Reyes was not present for this editorial meeting.
@UTAShorthorn