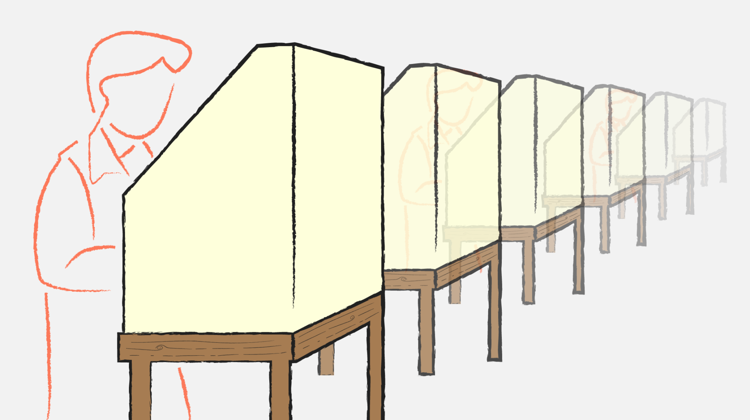 Voting is the fundamental pillar of American democracy. Last November, 2,862 ballots were cast at UTA. As of now, the number of ballots cast on campus in the 2020 election will stand at zero.
In 2018, midterm voting among college-age students more than doubled nationwide, climbing to 40% from just 19% in 2014. Though it may be attributed to an increased concern in local and national politics, young people are finally participating in the democratic process, and that should be applauded.
However, earlier this year the Texas state government signed into law House Bill 1888, requiring mobile polling stations remain open for the entire 12-day duration of early voting. In response, Tarrant County has opted out of an on-campus early voting location altogether, citing budget restrictions. In the past, UTA has only hosted early voting for three to four days.
To consider limiting access to campus voting would be an unwise decision by the county and could consequently hush the voice of an entire demographic. By reevaluating its budget and adding an early polling location at UTA, Tarrant County can help ensure that the constitutional right to vote is not a luxury.
Many students who commute to campus may find themselves here for an extended amount of time. Staff and faculty, too, spend a good deal of time here. And for students who live on campus, the only access to a polling station could very well lie with those which are provided nearby. When all this is considered, we begin to see how this legislation could restrict access.
Voting restrictions are nothing new in Texas. In the 2018 case of Abbott v. Perez, the Supreme Court ruled that the state of Texas could uphold its new congressional redistricting lines, which was seen as limiting voting access and representation for racial minorities. Yet in her dissent, Justice Sonia Sotomayor stated the ruling would "burden the rights of minority voters to exercise that most precious right that is 'preservative of all rights.'"
In 2011, Texas enacted a restrictive law that would require voters to present photo identification at polling places. Republicans, who introduced and endorsed the law, said it would limit instances of fraudulent voting. Democrats countered, stating there was little to no truth to the claim, and the law would restrict access to registered voters who are elderly or disabled.
A federal judge later found the legislation was introduced with the intent to restrict black and Latino voters from casting their ballots.
These examples demonstrate that as Americans, we must be weary of interference in how certain demographics — students included — cast their ballots.
Voting inaccessibility should not be part of daily political discourse. The right to vote is not a partisan issue.  Any law that limits the ability to vote should be met with skepticism, especially considering our state's checkered past with similar laws.
By requiring mobile polling locations to remain open longer, HB 1888 is making it financially difficult to support locations like the one UTA has hosted in the past. 
And as long as this requirement is in place, Tarrant County should reconsider its budget investment to ensure our founding principles live on in everyone who is registered to vote. 
The county has the opportunity to ensure democratic opportunity for students and staff on campus. From there, we can all step out, walk across campus and let our voices be heard.
The Shorthorn Editorial Board is made up of opinion editor Jacob Reyes; Editor-in-Chief Reese Oxner; associate news editor Rocio Hernandez; multimedia editor Anna Geyer; Amanda Padilla, life and entertainment editor; news reporter David Silva and copy editor Andrew Walter.