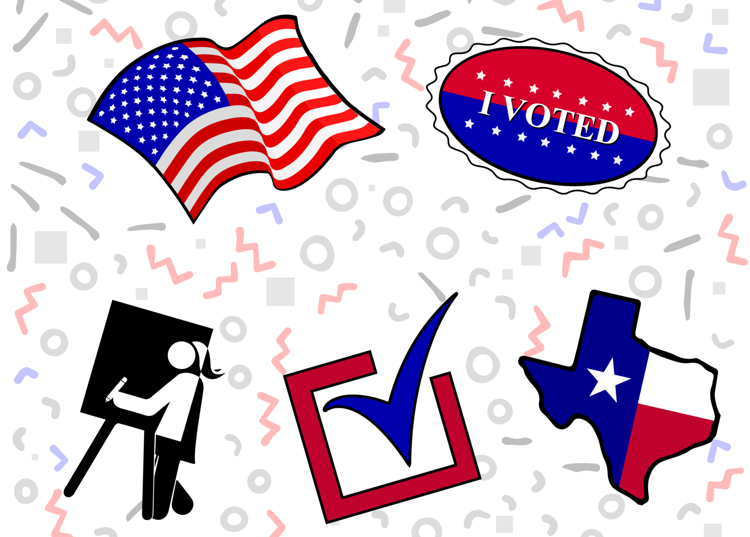 While thousands show up to vote during presidential races, local elections tend to underperform.
School bonds and an increased budget in cancer research will be on the ballot this Election Day, Nov. 5, in Tarrant county. Early voting ends Friday. Though the ballot may not seem as flashy as say a midterm or presidential year, it is still, nonetheless, an election year.
Held during the year between midterm and presidential elections, local elections focus on issues that directly affect the city and county you live in. If you're a current resident of Arlington or elsewhere in North Texas, your ballot may just decide the state of the place you call home.
No matter what year it is, we should utilize our American right and cast our vote.
Yet recently, Tarrant County residents have not taken advantage of that right. When early voting was an option on campus, 4,911 early votes were placed at UTA in the 2016 presidential election. The next year during the joint general and special election in Tarrant County, that number dropped to just 111.
Local policies, from funding and term limits to tax increases are just as vital and consequential even if they don't appear on a ballot next to Donald Trump or Beto O'Rourke. Your vote matters this year as much as any other.
If your residence is somewhere outside of North Texas, mail-in ballots are accepted during early voting.
Important decisions that affect residents' everyday lives are made through these elections and by those appointed during them.
In 2017, the city of Arlington approved a $45 million investment in a new senior center. This year, school bonds and budget increases need approval. Though that may not affect every student on campus, especially those who are not residents of Arlington, it's important to remember that ballots like these appear in every measure across the country. Ballot information for your hometown can be found on official government websites.
The issues may or may not directly affect you. But if you're a resident of Arlington, it's good to ensure your voice is heard on the matter. No matter what city you're from, pay attention to the local politics that affect life back home.
The presidential election is approaching, and voters are expected to turn out in record numbers. But with this year's election cycle, we can still ensure our voices are heard today and not just tomorrow.
The Shorthorn Editorial Board is made up of opinion editor Jacob Reyes; Editor-in-Chief Reese Oxner; associate news editor Rocio Hernandez; multimedia editor Anna Geyer; Amanda Padilla, life and entertainment editor; news reporter David Silva Ramirez and copy editor Andrew Walter.
Geyer was not present for this editorial decision and news editor Brian Lopez filled in.