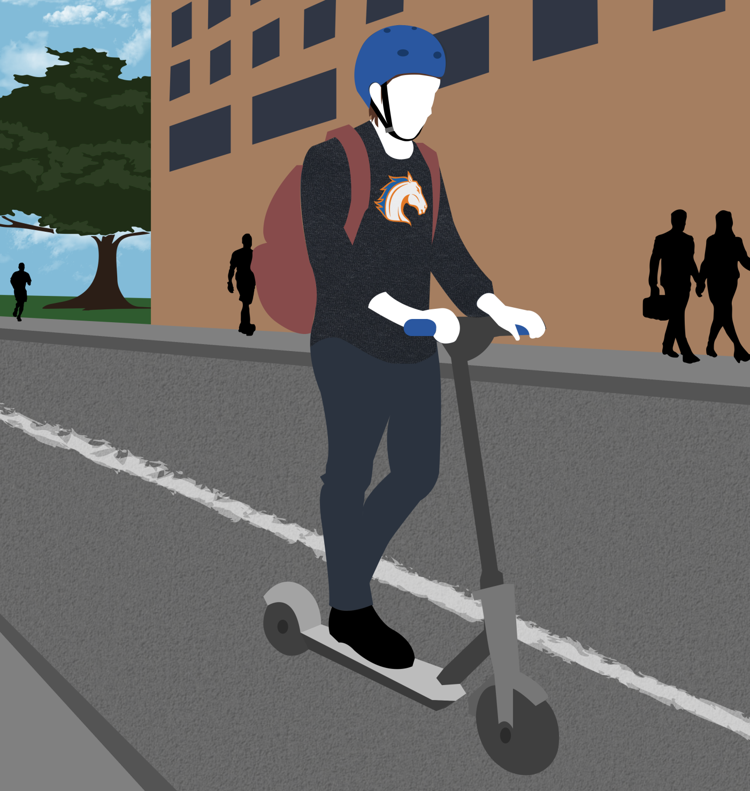 Students could soon be riding scooters to and from class or to Downtown Arlington, if City Council approves them.
Last Tuesday, the Arlington City Council proposed a possible partnership with UTA to implement an electric scooter program on campus and throughout the downtown area. If approved, the scooters would join Zagster bikes, Zipcar automobiles and campus shuttle services as a major transportation option for an ever-growing campus.
City council addressed the possibility of electric scooters coming to UTA at the city council meeting Tuesday.
This option would help connect downtown to UTA and allow students a convenient way to travel to and from different parts of the city.
UTA and Downtown Arlington seem like a perfect match — the city wants to foster a lively downtown, and UTA has the people to power it.
But the trip to Fuzzy's Taco Shop, Truth Vinyl and J. Gilligan's Bar & Grill isn't the most hospitable by foot. With a long walk ahead, students might decide to stay in instead of making the trek.
The city is working on increasing walkability in the area, but in the meantime, it's not always practical to make the walk from campus.
The addition of electric scooters would be a convenience not just for students trying to get from the west side of campus to the east but for the students on campus who are looking to venture a little farther.
Scooters may seem inconsequential, but they could make a world of difference for students without cars.
We already have the Via Rideshare program and Zagster bikes. But Via lacks the immediacy of grabbing a scooter and Zagster bikes are limited to the seven on-campus racks.
Arlington is currently in the middle of revamping its downtown. Electric scooters can increase accessibility and give the area a chance to thrive.
Riding downtown on a scooter gives students a chance to go to Fuzzy's or J. Gilligan's without having to plan far in advance. This gives students the opportunity to contribute to downtown's life and economy.
A study done by Populus Insights shows new forms of transportation services are growing and help cities with a modernized public transit. With a 70 percent positive view on options such as bikes and electric scooters, the city of Arlington and UTA can lead the way in a new, innovative form of public transit.
As our campus and our entertainment districts grow, the city and our university must adopt new forms of transportation for their students and citizens. A five-minute scooter stride around the town may just do the trick.
@UTAShorthorn