Students may find themselves so busy that the last thing on their lists is time for themselves, but for students with inflexible schedules, there may be a way of exercising both body and mind that can help them regain their self awareness.
Fitness assistant director Lindsay Lookingbill said she has practiced yoga for five years and continues to go because it gives her an overall feeling of well being and a challenge of physical strength.
"You learn body awareness from yoga," Lookingbill said. "You become more aware of how you move throughout the day. It helps calm your mind, and it teaches you to be in the moment."
Alumna Amy Velasquez, who instructs yoga classes at the Maverick Activities Center, said she practiced yoga three years through online videos before she became a certified yoga instructor.
"Everybody can benefit from yoga," Velasquez said. "A bulked-up powerlifting athlete might see his lifts increase from yoga stretches, and someone who wants to lose weight would benefit because yoga increases metabolism and helps the digestive system. There is no limit to who can do yoga. Everyone should be doing it, if you ask me."
Jacobo Reyes Velasco, quantitative biology graduate student, said he has been doing yoga at UTA for about a year and a half because it helps him release stress from graduate school.
"I would totally recommend yoga to other students," Reyes Velasco said. "It makes me be able to concentrate more on things, especially using the respiration breathing exercises."
Lookingbill said yoga stands alone compared to other athletic activities.
"Yoga is more of a mind-body class," Lookingbill said. "Zumba and kickboxing are more high-energy. Pilates is more dynamic, and you're not competing with others like in intramurals. In yoga, you focus on being present."
Velasquez said controlling breathing is the main thing yoga teaches people, and it helps people overcome negative feelings when they are sad and come back to reality when they are overly happy.
"Yoga is about your present breath opposed to the breath you are about to take," Reyes Velasco said.
Click on image to view gif.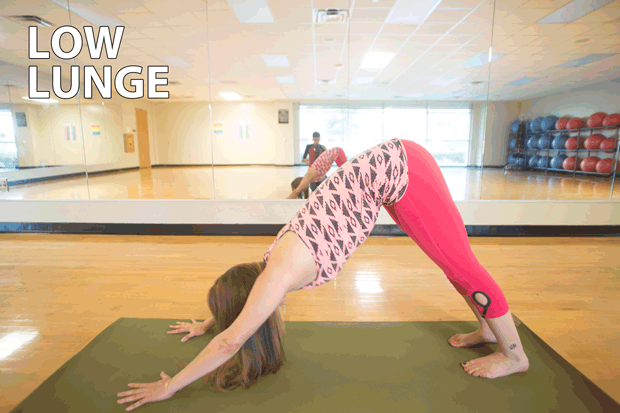 Reyes Velasco said he describes yoga as a mixture of a hard-core workout and extreme relaxation.
"My favorite move is the inversion," Reyes Velasco said. "You stand up on your hands and put your feet in the air. It's like a handstand."
Velasquez, who stopped going to her chiropractor after she picked up yoga, said the physical benefits of yoga are flexibility, strength and posture. She also said it helps alleviate lower back pain and helps with carpal tunnel syndrome.
"In yoga, we have the sun salutations, combinations of postures that connect every piece of your body," Velasquez said. "Every pose is combined, and you do it for a purpose, and you use them to warm up for your peak pose, the climax of the class."
Lookingbill said students considering yoga should keep an open mind and see how they feel at the end of an hour session before they decide.
"In fall, we will offer different kinds of yoga," Lookingbill said. "Yoga basics are more restorative with gentle stretches, advanced yoga involves endurance and power yoga uses strength to help you move through poses quicker."
Click on image to view gif.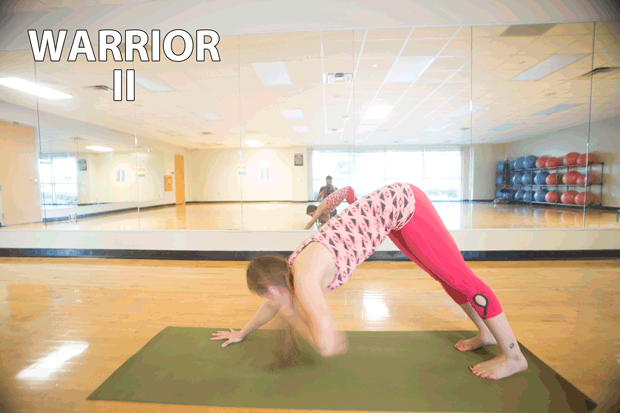 Velasquez said one of yoga's misconceptions is that you have to change religions to participate.
"Yes, yoga is based off Hinduism and Buddhism because it comes from India. If you go into a classroom where they are doing a chant, you will here people chanting to Shanti and other Indian deities," Velasquez said. "People think you have to be of that religion to practice yoga, which is a high misconception. It's like saying you can't run if you've never played sports."
Lookingbill said there has been a big surge in mind-body classes, like Pilates and yoga, during the past few years. She also said even though yoga is trendy, that doesn't mean it's not an authentic way to work out.
"For some, it's like their way of life and they have to have yoga every single day," Lookingbill said.
Click on image to view gif.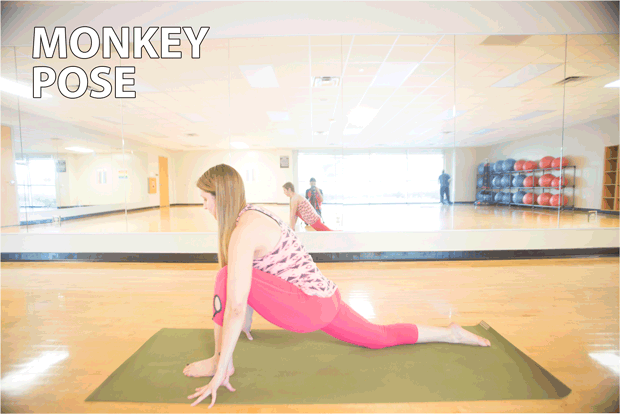 Velasquez said even though she has witnessed many inspirational yoga stories, there is one in particular that comes to mind.
"There was one student I had, a woman in her late 40s, early 50s, who came to the class because she couldn't touch her toes when she bent over," Velasquez said. "She came to me with the goal to be able to do it after a year, which gave me the idea to make that class focus on her hamstrings and lower spine to get into that pose more comfortably. I taught her the poses and after the 45 minute mark of the hour class, all of sudden she did a bend and touched her toes. I looked at her and smiled and she started tearing up."
@UTAShorthorn