Quickly shifting gears, Vanessa Stiles accelerated her black Nissan 350Z to nearly 100 mph before whipping it into a tire squealing, smoke-inducing slide around the Mineral Wells Airport.
The drift sent smoke and tire rubber flying through the business management senior's window while she navigated the car through the winding course.
The UTA Driver's Club member hadn't lost control of the car ­­­­— she had as much control drifting at high speed as a typical driver has normally.
Drifting is a motor sport where drivers intentionally oversteer to slide their cars in close proximity around a track designed to challenge their skill level.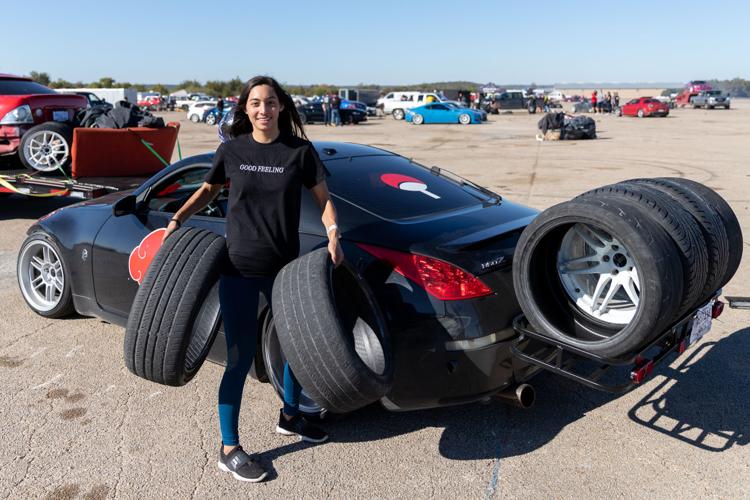 On a competition weekend, Stiles can burn through two sets of tires, while other drift racers can go through as many as six sets.
Her first experience drifting came during a tandem run riding with drift racer Fielding Shredder from the Netflix show "Hyperdrive." A tandem run is a competition where two drivers take the course at the same time and alternate turns as the lead car and chasing car.
Riding with Shredder, Stiles felt a rush of excitement through her entire body.
"I don't think I've smiled that big in a car ever in my life," she said.
Growing up, her mother was interested in muscle cars, and her uncle owned a custom body shop. Stiles would help her uncle around the shop, sparking her passion for cars.
Stiles said she has always been passionate about anything mechanical and curious to understand how things worked.
After spending her childhood cheerleading, Stiles became interested in BMX and bicycles while in high school. She enjoyed riding around with her friends and learning about bicycles.
Stiles said BMX was her first entry into taking stuff apart and putting it back together since she was too young for a car.
Stiles was all about road racing before her involvement with the drift community. One of her childhood friends raced his Camaro professionally, which Stiles said inspired her to buy a Camaro and pursue road racing.
Seven years, four Camaros and two 350Zs later, Stiles now competes in Lone Star Drift, a monthly state series of drift races.
Trackstar Motorworks owner Ethan Hopkins, who helps Stiles work on her car, said that when he first met her, she seemed interested in drifting but didn't have a suitable car. However, he said she showed the necessary commitment to learning the sport.
"It takes a lot of effort for sure," Hopkins said. "It's not something that you can barely dabble with here and there."
Stiles learned to balance the throttle, handbrake and foot brake to maneuver her car around the racetracks. She practices primarily at drifting events and also occasionally trains on simulators.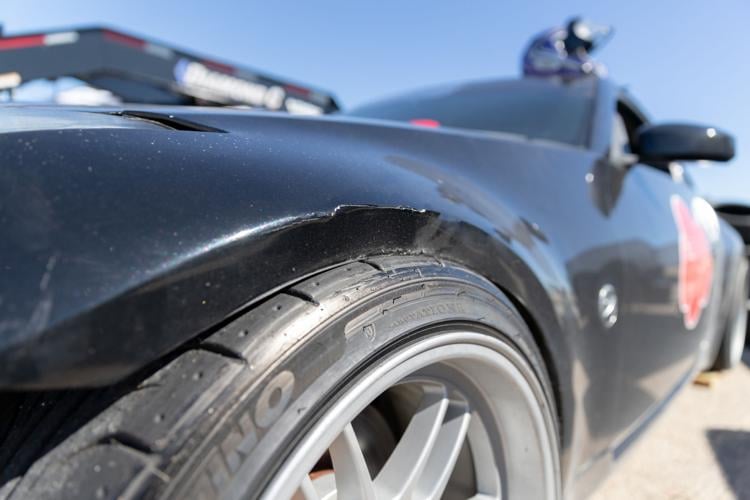 "It's inevitable in drifting that you're going to crash," Stiles said.
Crashing is part of the learning curve because even the best drivers mess up and you can't control the other drivers, she said.
Stiles said her mother was scared when she first learned that Stiles started drifting because she had seen videos of the sport and knew how dangerous it was.
Her mother was more accepting after riding along, Stiles said, because she saw the sport from the driver's perspective.
To combat the physical and mental demands of drifting, Stiles lifts weights throughout the week. She confines her drifting to the weekends to balance her job and classes but doesn't let her busy schedule get in the way of the sport.
"Vanessa's definitely impressed me," Hopkins said.
About two weeks ago, Hopkins and Stiles were working on her car and went driving down the frontage road when he told her to floor the throttle. She drifted the car while accelerating, which scared him at first because he was expecting her just to drive straight, but her control over the vehicle impressed him.
Drifting isn't just about speed though — it's about style, said Diego Sandoval, UTA Driver's Club president.
UTA student burns rubber in competitive drifting, impresses peers on the racetrack
Stiles is a focused driver, but relaxes enough to enjoy her time in the driver's seat, letting out an occasional scream of joy.
"She's pretty fierce, and I'd say her car is pretty fierce, too," Sandoval said.
In drifting, it's not as simple as saying the car that crosses the finish line first is the winner. The sport is scored on a variety of criteria, including speed, proximity to other cars, angles and smoke. Unlike other motor sports, winners are decided by judges, not a stopwatch, Sandoval said.
Stiles said she's focused on competing in the Lone Star Drift circuit for the next two years before racing at a national level. Because of how financially difficult it is to become a professional drifter, Stiles hopes to work for a drifting team or company.
Regardless of who wins or loses, anyone who participates or spectates enjoys the sport, Stiles said.
"Everyone just wants to see you shred," she said. "Everyone wants to see you burning off tires and having fun."
@elias_valverde