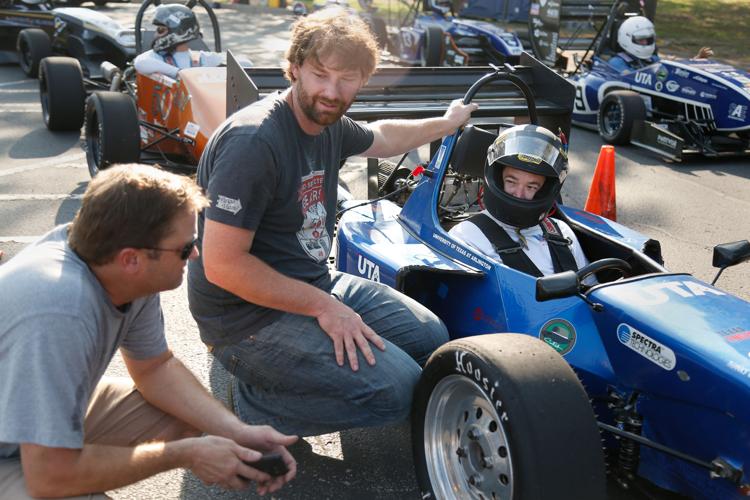 UTA Racing took first and second place in the 19th annual Texas Autocross Weekend competition day Sunday in Lot 49.
The event, hosted by UTA Racing, consisted of competitors that designed, built and raced Formula SAE cars. It welcomed drivers from UT-Austin, the University of Oklahoma and Louisiana State University.
Chris Dunn, UTA Racing team captain, placed first with a time of 31.168 seconds. Tim Stevens, UTA Racing chief engineer, placed second with a time of 31.440 seconds.
A total of 12 UTA drivers competed in the event, with each driver getting four runs or laps, said Gabriel Nava, UTA Racing data acquisition lead. UT-Austin had six alumni drivers, the University of Oklahoma had four drivers and Louisiana State University had six.
"The whole purpose of this competition is for teams to get together and have some casual racing," Nava said. "Basically just have some fun and show off a little bit."
Dunn said he started racing Formula SAE cars with UTA Racing his sophomore year and has continued ever since because of the adrenaline rush he gets when behind the wheel.
"I've matured a lot more since then. It's been a while since I've been scared in one of these," he said.
Nate Weber, UTA Racing alumnus and team captain in the year 2000, worked on and brought out car F-2000 from a 12-year retirement to race in the competition. Weber said he bought the car from the team in 2007 when they had to sell some cars to make room.
"We brought it out two weeks ago to get it going, but it had sat so long that there was a bunch of corrosion on the inside of the engine," Weber said.
He said the car has become nice memorabilia to him and alumni.
Bob Woods, UTA Racing faculty adviser, said there is no trophy, only bragging rights.
"A lot of people drove hundreds of miles and stayed in a motel just for the opportunity. Each driver probably got two-four minutes on the track," Woods said. "That's a pretty good sign [of] how much these guys enjoy it."
@rocio_mhdz