Four UTA alumni were honored during the 2019 Distinguished Alumni Awards in the University Center Bluebonnet Ballroom on Friday night.
The annual event kicked off UTA's Homecoming weekend and recognized alumni for their professional achievements and service. Alumni Shahrzad Amirani, Jacob M. Monty, Wendy A. Okolo and Michael B. Ray were honored during the event.  
Although they aren't alumni, Arlington Mayor Jeff Williams, Texas Sen. Kelly Hancock and Rep. Chris Turner also received community service awards for their community impact. 
President Vistasp Karbhari said he was proud of the alumni and thanked them for their leadership and service to UTA.
"They're not only making a difference, but they're setting the pace," he said.
Master of ceremonies Jay Horn introduced each of the alumni by describing their professional achievements. Each honoree offered their own tale about UTA when they took the podium.
Amirani, who graduated in 1989 with a bachelor's degree and in 1993 with a doctorate, currently works as vice president at Ipsen Biopharmaceuticals. She remembered when she arrived in Arlington with $40 dollars in her purse, and she only knew one person.
But, she felt at home after the first few weeks, and she attributed that to the welcoming faculty and staff.
"I cannot remember one person who was not supportive," Amirani said. "Who was not caring and who was not accepting."
Monty, who graduated in 1991 with a bachelor's degree, founded and manages Monty & Ramirez LLP, a law firm. Without UTA, he said he would not be where he is today.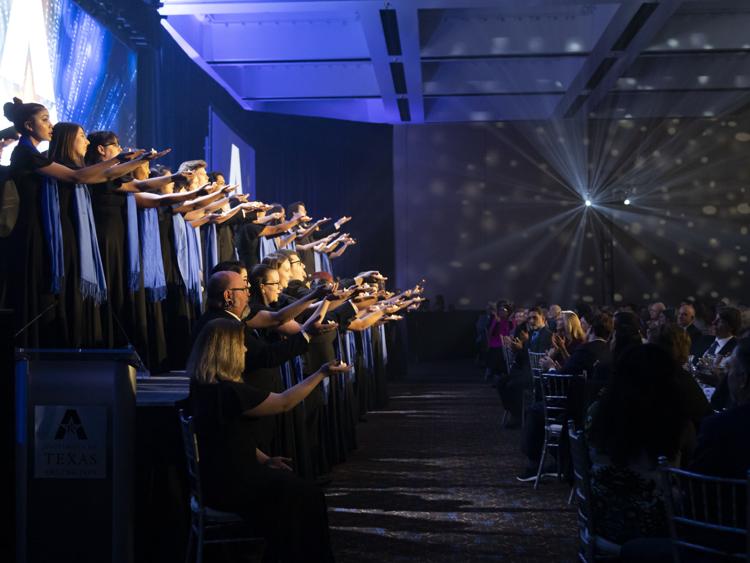 Ray graduated in 1976 with a bachelor's degree, in 1978 with a master's degree and in 1981 with a doctorate. He is currently retired but recently worked for ExxonMobil as a science adviser.
He said UTA prepares students for the real world. He was connected to ExxonMobil through a faculty member he knew while attending school.
Okolo, who graduated in 2010 with a bachelor's degree and in 2015 with a doctorate, was recognized as a Distinguished Recent Graduate. She was the first black woman to earn a doctorate degree in aerospace engineering from UTA.
She currently works as an aerospace engineering researcher at NASA. She said attending UTA was one of the best decisions she has ever made.
She said the opportunity to mingle with like-minded individuals helped her "soar."
Her doctorate adviser encouraged her to apply for grants and fellowships even if she didn't think she had a chance. She also thanked the faculty members that helped her while she was in school.
"UTA gave me so much," she said.
@colby_farr