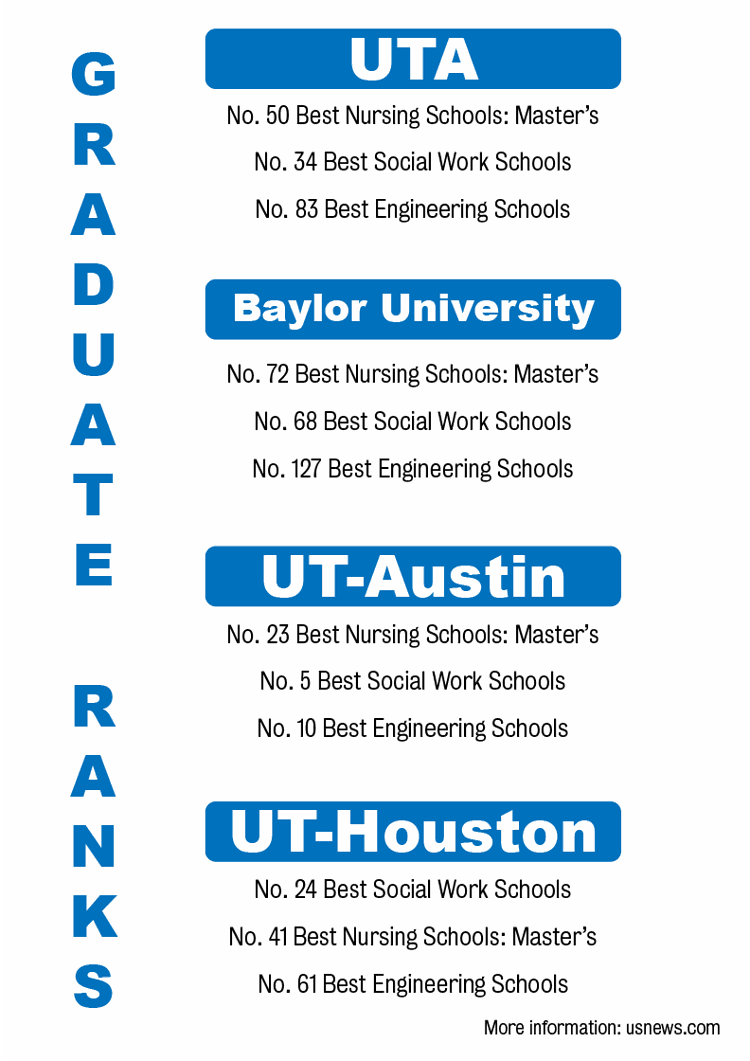 UTA's national rankings are more visible now than ever before, said Duane Dimos, graduate studies dean and research vice president.
"Rankings are becoming increasingly visible, and I think students are becoming increasingly sophisticated at looking at rankings and deciding before they decide where to go," he said. "They're looking for a university that is well-ranked in the area that they want to study."
U.S. News & World Reports recognized more than 20 of UTA's graduate programs in their 2019 Best Graduate Schools list.
In this list, the university's social work, engineering and nursing graduate programs ranked in the top 100.
The social work program ranked No. 34 nationally, the nursing program ranked No. 50, and all the engineering programs ranked in the top 100.
"I think for students there should be, you know, a good validation that you've come to a great university. That, you know, when you go out with a degree from UTA, people will recognize it as being from a great university," Dimos said. "Things like rankings are a very, very big part of what somebody would look at if you're an international student trying to decide where to attend."
However, Kunal Bijlani, mechanical engineering graduate student, said he doesn't pay too much attention to program rankings.
"As long as I get to do what I love to do, it's good," he said.
What he does look for in a program is the resources that they offer, Bijlani said.
As international students, Bijlani and Anitha Vijendra, computer science graduate student, said the resources offered by the graduate programs are what makes them appealing to students.
"We do get to make a lot of connections, and we get to know a lot of people," Vijendra said.
More resources, new hires, new equipment and new research facilities reflect the success in the rankings, Dimos said.
"Patents, building companies, those are all the things that will grow our reputation," he said.
As rankings go up, the value of students' degrees goes up as well, Dimos said.
"Rankings have become increasingly important in higher education," he said.
The university's success and recognition do, however, go beyond just benefiting students, Dimos said. Institutions, business and community members benefit as well.
"We've become a real resource for the area," he said.
@rocio_mhdz