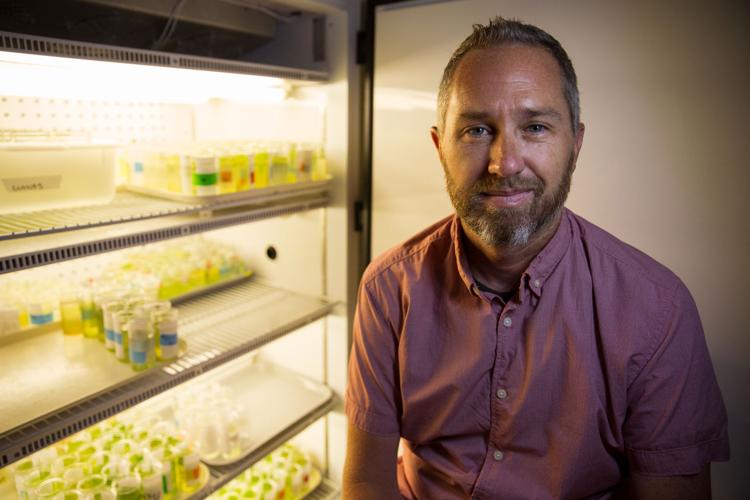 Studying how organisms adapt to environmental change has driven associate biology professor Matthew Walsh in his research on adaptation.
Walsh was a recipient of the Presidential Early Career Award for Scientists and Engineers in early July. He was notified about the award via an email from the National Science Foundation.
"The Presidential Early Career Award is one of the most prestigious awards for scientists," biology department chair Clay Clark said in an email.
In order to be nominated for the award and undergo the rigorous selection process, Walsh first had to be awarded a Faculty Early Career Development Program, also known as CAREER Program, award.
Exercise science senior Sara Peper was the first undergraduate to win the award.
"The award affirms what we already knew," Clark said. "That Dr. Walsh has shown outstanding achievements in research and in teaching."
Walsh's lab focuses on aquatic environments, studying fish and what they eat, including small crustaceans called daphnia.
Daphnia hold an important ecological role because they eat algae and serve as a food source for smaller fish, Walsh said. His lab collects daphnia eggs, which accumulate in the sediment of Wisconsin lakes.
Walsh uses the resting daphnia eggs to study adaptation.
For the past ten years, an invader called the spiny water flea has been a threat to the daphnia population and caused a deep decline, Walsh said. He is studying how the daphnia have evolved to respond to this threat.
Using the sediment cores, Walsh's lab is able to isolate sediment layers to determine daphnia egg age and hatch them from those different time periods. Once hatched, the daphnia are able to live in a lab for years.
"There are some scientists who have hatched daphnia that may be as old as 800 years old," Walsh said.
At the cold, dark bottom of the lakes, the eggs are stuck in mud and left in suspended animation, Walsh said.
"They need particular cues to hatch again, whether it's oxygen or light or temperature," Walsh said. "When you pull them out of the sediment, you expose them to all that stuff, and some of them will hatch again."
Morteza Khaledi, College of Science dean, said awards such as Walsh's could help attract more highly talented young scientists to UTA.
"Receiving this kind of recognition at the national level says a lot about our faculty and the strong research program we have," Khaledi said.
Walsh's interest in evolution in natural systems started when he was a master's student, at a time when he was studying marine sciences.
He said he enjoys the flexibility to pursue what he's interested in, go into the field to perform experiments and find answers.
"It's the pursuit of knowledge and discovering new things that inspires me to continue on in my job," Walsh said.
@megancardona_