Thirty years ago, Terry Thorsen, UTA alumnus and veteran, began writing about the four years he spent flying combat jets.
In March, he released his book, Phantom in the Sky. It details his experience as a radar intercept officer in the Marines and how he overcame his airsickness to fly in Phantom jets.
"If you can imagine being wired physiologically to where you get motion sick and think you can exist in the rear seat of a Phantom jet," Thorsen said. "It's probably almost an impossible scenario."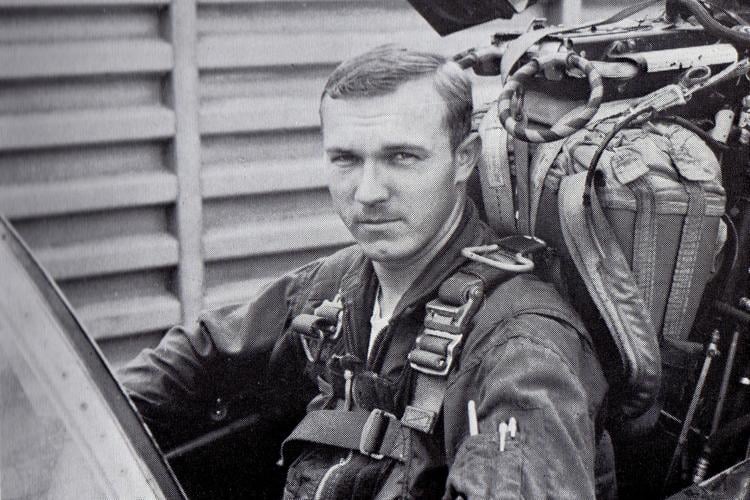 Radar intercept officers sat in the back seat of combat jets and helped the pilot with maintaining proper altitudes, airspeed, communication and navigation, Thorsen said. They also kept a lookout for enemy aircrafts or friendlies that were too close.
"The radar intercept officer played an integral part in enemy aircraft intercept and ordnance delivery," a section of the book states.
While the war in Vietnam raged on, Thorsen knew he would be drafted, so he decided to enlist in 1966, the year he graduated from UTA, which was then known as Arlington State College.
Thorsen wanted to be a naval aviator but failed the aviation portion of the test. He didn't know what was next, until he discovered that he could fly in jets through the Marine Corps, he said.
The Marines offered a fast-track program into the back seat of the Phantoms. While his aviation test scores didn't suffice for the Navy, they did for the Marines.
But earning his wings didn't come without its difficulties.
As flight training intensified, so did the vomiting, his book states. Thorsen would receive "Outstanding" or "Excellent" scores, but sometimes, his "Outstanding" scores were downgraded to "Excellent" because of his airsickness.
"I did a lot of vomiting, actually, during that phase," he said.
To combat it, he took Dramamine, an over-the-counter drug used to treat motion sickness and nausea, but it didn't always help.
"A lot of it was just pure guts," he said. "You just do what you can to not succumb to it."
At one point, Thorsen didn't know if he would earn his wings because of his motion sickness, but he was good at what he did and was ranked second in his class, he said.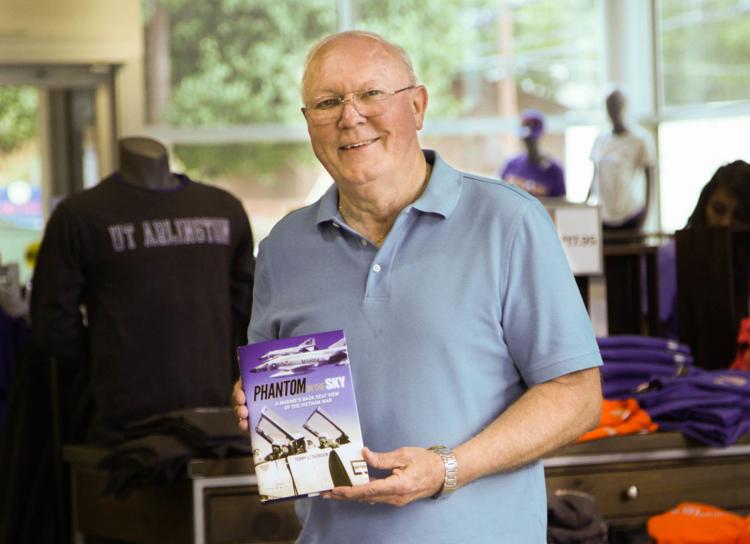 "So here I am with this air sickness issue, but I'm good — I'm good at intercepts," he said.
Out of his 22 training flights, the air sickness box was checked in about 75% of them. Nonetheless, in February 1968, Thorsen earned his wings and reached his goal of becoming a radar intercept officer.
After earning his wings, Thorsen was assigned his first combat mission in Vietnam on April 1, 1969. He remembers stopping in Hawaii before arriving.
"Going to Hawaii for four days was like going to heaven on our way to hell," he said.
During his time in Vietnam, Thorsen flew 123 combat missions. He garnered multiple honors, including 10 Air Medals, one Bronze Star Award and two Navy Unit Commendations, according to his website. He also flew for the most decorated squadron in the Marine Corps, the Red Devils of Fixed Wing Marine Fighter Attack squadron 232, or VMFA-232.
Gene Brown, veteran and Thorsen's pilot in Vietnam, said he picked Thorsen as his radar intercept officer because he had a cool head and handled emergencies with other pilots well.
"So, you know, trying to cover my butt too, I just said 'Hey, that's the kind of guy I want in my back seat,'" Brown said.
From watching out for enemy aircrafts to monitoring the cockpit, Brown had someone in his backseat that he could rely on.
"It's always nice to have a second opinion and a second set of eyeballs and somebody that can stop and go open the [emergency] book," Brown said.
Because Brown and Thorsen flew together frequently, they understood each other well.
"If you've flown with the guy a lot, you really didn't have to ask him a lot of questions," Brown said. "He would come up with what you needed right then without even being asked for it."
Thorsen's wife, Audrina Thorsen, said while the flying and combat stories in the book are exciting, the real takeaway is how her husband overcame airsickness, earned his wings and flew for the most decorated squadron in the Marine Corps.
"It's a book about success, overcoming obstacles — which he did," Audrina Thorsen said. "All the way through, everything was a huge obstacle, and he overcame every one of them."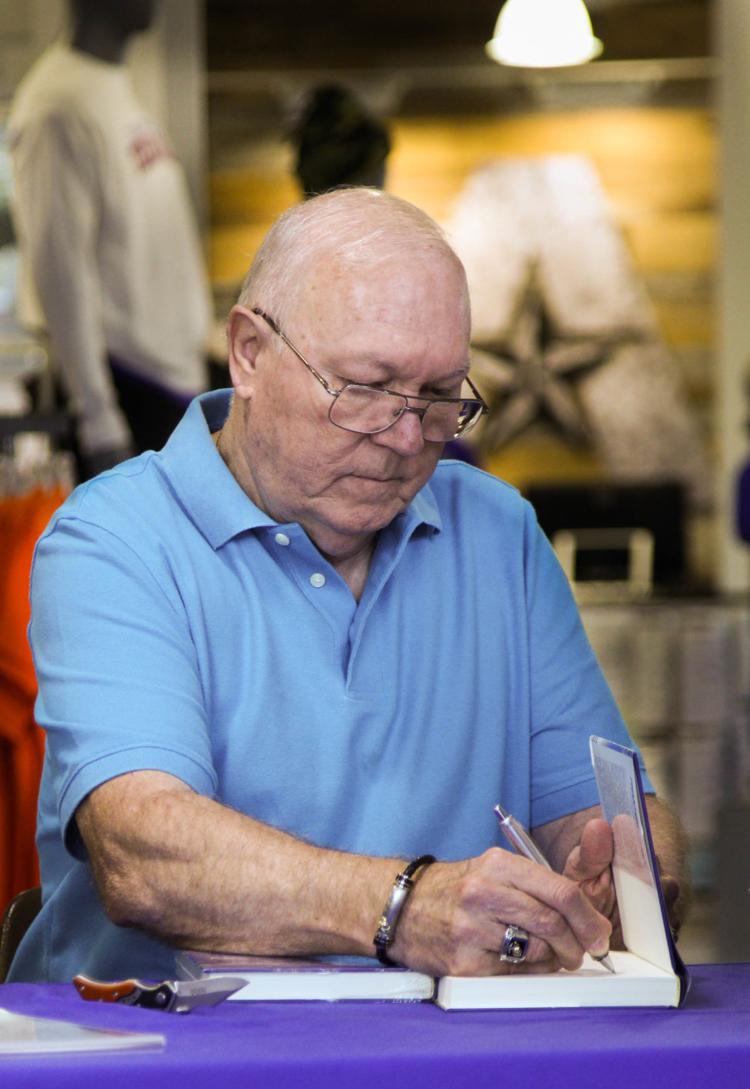 Terry Thorsen's motivation behind the book was to share his success story, he said, not only for others to learn from it but to tell the perspective from "the guy in the back."
With flight logs, maps and letters he sent to his mother during the war, Terry Thorsen handwrote and filled up about 12 three-subject journals with notes for his book, he said. But, he didn't have a manuscript ready until 2012, four years after he retired.
Publishing the book didn't come easy, though. Terry Thorsen struggled to find a publisher.
When receiving rejection letters from publishers, Audrina Thorsen said she didn't get as discouraged as her husband because she had faith.
"The main reason that it was easy for me to encourage him was because I knew it was a good book," Audrina Thorsen said. "I knew it was important to him."
Terry Thorsen said his wife not only encouraged him but also helped edit the book. The process of getting the book published involved the both of them.
Eventually, the University of North Texas Press agreed to publish the book — and what initially started as notes three decades ago came to fruition.
"Euphoric," Terry Thorsen said, describing the feeling of signing the publishing contract. "It was phenomenal."
UNT Press director Ron Chrisman said in an email that the most compelling part of the book, for him, was the perspective of "the guy in the back."
"I've read and published other memoirs of pilots but never really knew about the two-seat jets and the role of the radar intercept officer in [the] back," Chrisman said.
UNT Press seeks to cover all aspects of military service in its military memoir series, Chrisman said, so he is grateful Terry Thorsen shared his story.
"When an overlooked or not well-known branch of service is covered in a well-written memoir, it makes a real contribution to military history and I enjoy publishing such gems," Chrisman said.
Audrina Thorsen said she wanted this book printed, in part because some people that Terry Thorsen loved never got to see the book.
"His parents had died, they knew he was writing it. They never got to see it. Other people that he loved and cared about died and never got to see it," she said. "I wanted him to get this book done."
@Brian_L8