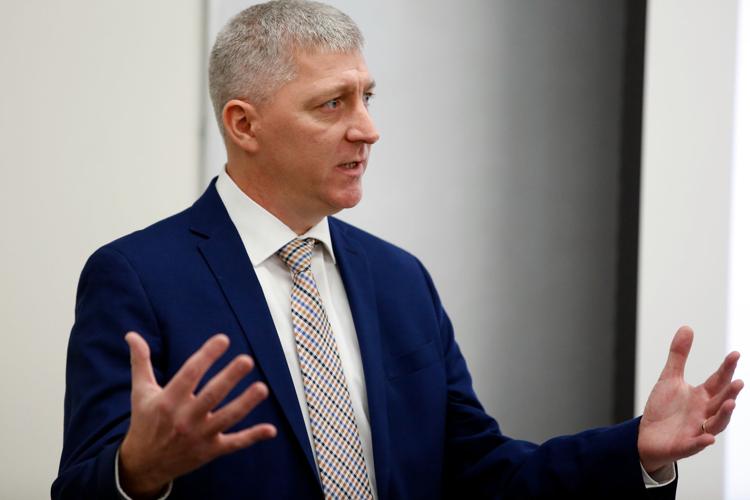 The last of three scheduled candidate forums took place Friday as part of the search for a new Student Publications director.
The position oversees the Student Publications office, which houses The Shorthorn.
In mid-July, the position was left vacant when former director Beth Francesco took a position as an operations director for the National Press Club Journalism Institute in Washington, D.C.
Steve Gleydura, freelance writer and communications consultant, gave his presentation titled "The Shorthorn: A Vision for a Great Student Media Organization."
Gleydura worked at Cleveland Magazine for about 18 years and said approximately 200 interns have worked at the publication.
After working as the vice president and editor at Cleveland Magazine, Gleydura started freelance writing in February.
In his speech, Gleydura said that student media needs to look as professional as it can in the modern age.
He said he hopes to close the gap between student and professional journalists and connect students to internships and jobs.
Gleydura said he wanted to be a champion for The Shorthorn and help nurture the fundamentals of good journalism.
Gleydura referenced a quote by David Granger, Esquire's former editor in chief: "We must earn the right to tell stories."
"How we earn the right to tell stories is by adding value in our readers' lives," Gleydura added.
With experience in declining print subscriptions and increased digital competition at Cleveland Magazine, Gleydura said he and his team were able to find new solutions to old problems.
He also talked about creative marketing tactics that would package great journalism with audience engagement opportunities.
Taking what he learned at Cleveland Magazine, Gleydura said the fundamentals of journalism are the same.
"Good solid reporting, building trust with your sources, using data in important ways and telling strong narratives don't change," he said.
Stephanie McAlpine, associate director of marketing and communications for Student Affairs, said she thought Gleydura did a good job using his experience to address the needs of the campus.
This was the only Student Publications director forum that McAlpine had attended.
She said she hoped to see a director who had good leadership and can work well with students.
"We talk a lot on campus about students getting real-world experience, and we see that it's a perfect match in Student Publications," McAlpine said.
Alumna Janet Neff said she thought Gleydura's presentation covered a lot and emphasized his belief and support for the profession of journalism.
Neff, who served as an editor in chief at The Shorthorn, said it's difficult to understand from an outside perspective all the aspects of the director job, but she thought Gleydura did good research about The Shorthorn.
For the next Student Publications director, Neff said she hopes to see a good leader and an advocate for The Shorthorn and its students.
"[Someone] able to articulate the importance of The Shorthorn to the entire community," Neff said. "They need to realize how important that newspaper is and what it means."
@megancardona_