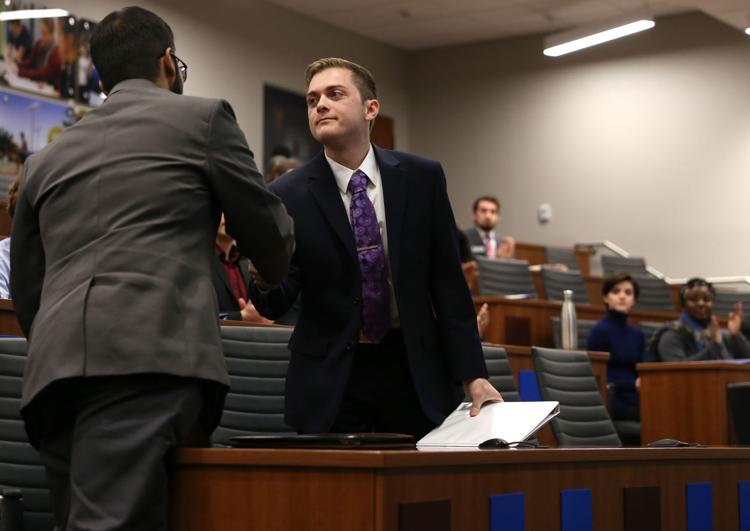 Student Senate confirmed information systems junior Gavin Mitchell as the new chief of staff Tuesday. The senate also introduced four new resolutions and a constitutional amendment.
Mitchell previously served as the chair of the legislative relations committee in the executive branch of Student Government.
He said that position has prepared him by working with the Leadership Team, setting up events, and working with Arlington City Council.
"I'm coming in at kind of a great time, with the resignation of the vice president, so I think the most important thing for me to do is come in and finish up the projects that are being worked on right now," Mitchell said.
Mitchell said his main goal entering as chief of staff is to finish up events like Pizza with the President and Greet Your Government.
The new constitutional amendment will be voted on at the next general body meeting. The amendment aims to raise the Student Body president and vice president GPA application requirement from a 2.25 to a 2.5 GPA. During the term, they must maintain a 2.25 GPA.
Bethany Clinton, Student Body vice president, said people who go into the position do not realize that they often do more than the required 15 hours a week.
"It's true that some people's GPAs do drop, and so I think that requiring a 2.5 kind of gives them some, like, leeway if they drop a little bit down to a 2.25," she said. "This is a really good initiative, and I hope it passes."
Clinton said she is excited for Mitchell to be a part of the Leadership Team.
"I worked really closely with Gavin because he was my chair for the whole past semester, and he's always been, you know, taking the initiative to do more than what he's required to do," she said.
Student Body President Yash Singh said Mitchell has been one of the most hardworking individuals in the executive branch.
"Just seeing him work within the legislative relations committee was just an honor because, you know, we're just in our second year of being a three-branch system government, so there wasn't a lot of precedence that we had," Singh said. "Gavin, along with Bethany and I, has been just helping the executive branch just move forward in general, and I think that's one of the reasons why we chose him for chief of staff."
Four resolutions were introduced to the Student Senate and assigned to committees for research.
Singh said everyone in Student Government is excited for the semester.
"The senate has always been the body that has, you know, lived up to its expectation of representing student values," he said.
@Angie_Perez99