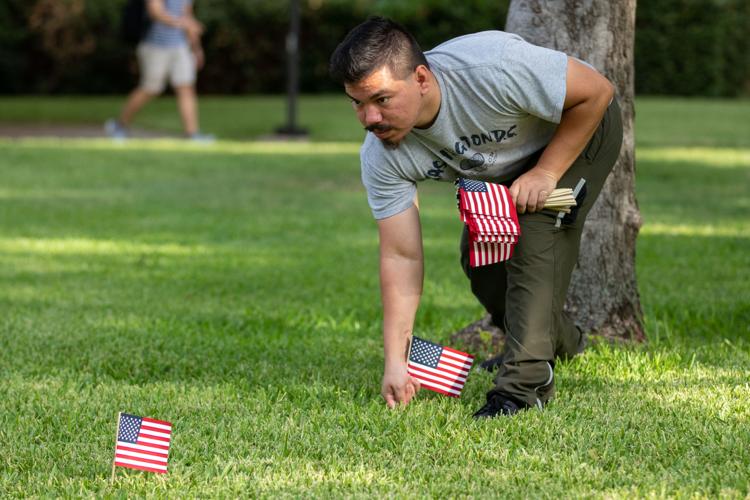 With a faint breeze swaying 2,977 U.S. flags on the Central Library mall, medical technology junior Vianney Rubio stopped to reflect and take a picture.
At 7 a.m. Wednesday, the student organization Young Americans for Freedom planted the flags to memorialize the lives that were lost during the Sept. 11, 2001 attacks.
On that day, 19 terrorists hijacked four commercial airplanes and intentionally flew two of the planes into the World Trade Center's Twin Towers and the third into the Pentagon. After learning about the other hijackings, passengers and crew members on the fourth plane made the hijacker-pilot crash the plane into a field in Pennsylvania.
Gregory Garcia, Young Americans for Freedom treasurer and economics finance senior, said each flag represents a 9/11 victim.
"There's a lot of people who are living today, especially in college now, that don't necessarily have a living memory of what happened that day," Garcia said. "The further away you get from those kinds of events, the easier it is for people to forget."
Rubio said the flags help keep 9/11 in the minds of students. Although she wasn't old enough to remember, she said the lack of memory doesn't take away her patriotism and sadness.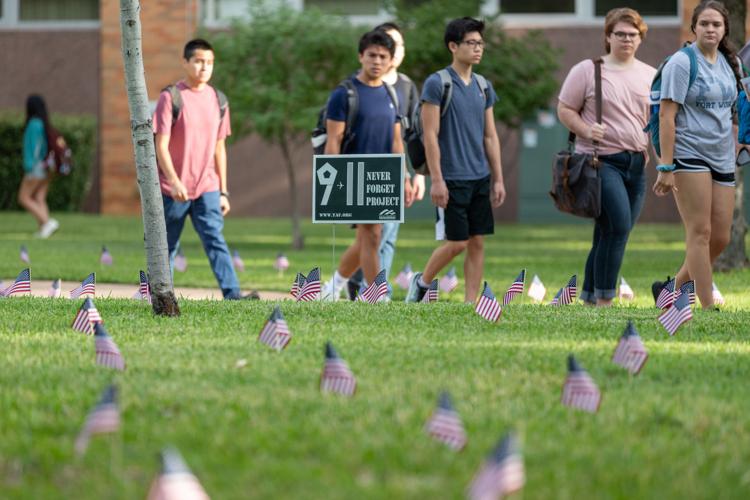 Christian Chio, Young Americans for Freedom member and biology senior, said a lot of college students will either remember their school day stopping to witness the event on TV or were too young to understand.
"It's really a psychological thing," Chio said. "Anyone can go on Wikipedia or any other article about the Sept. 11 attacks and read, 'Oh, [about 3,000] Americans died.' But no one really sees just how massive that number is unless we have a visual representation of all the Americans that were killed on that day."
Garcia said he was about six years old when 9/11 happened, and he only has a faint memory of that day.
"I didn't understand how strange and how tragic it was as a kid," he said. "But as you grow older, you understand the tragedy of it, the lives that were lost and the stories of the people that were there that day."
Chio hopes passing students who saw the flags took a second to remember the day.
"Sept. 11 started off as a peaceful Tuesday morning and this is a peaceful Wednesday morning," he said. "Anything can happen at any time so it's always good to look out for the people around you."
@rocio_mhdz