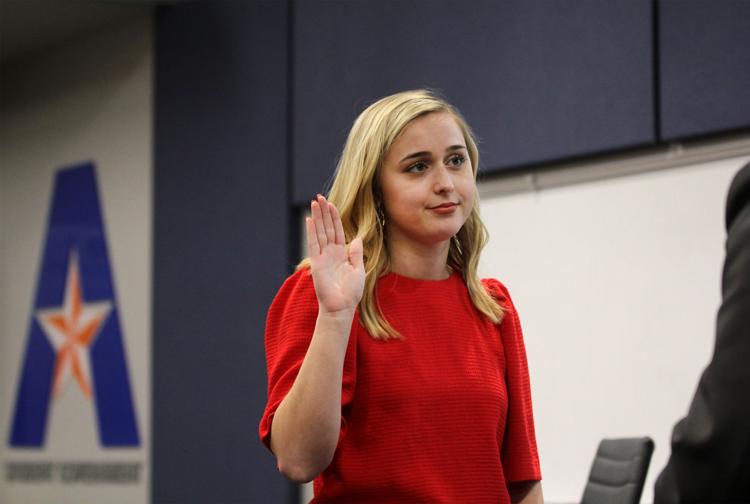 Bethany Clinton enters the vice presidency halfway through her term as chief of staff after the resignation of Britney Keza, former student body vice president.
The Student Government Leadership Team knew going into winter break that Keza would not be completing her one-year term as student body vice president in the spring.
Keza stepped down for personal reasons, said Jennifer Taylor, student governance assistant director.
This resignation is the first time under the three-branch student government structure the line of succession, outlined in the Student Community Constitution and Bylaws, has been implemented.
"Luckily, Bethany is awesome and was really far ahead on everything because she worked over winter break," Taylor said. "She had the chief of staff position really under control as we got into the spring semester."
Clinton said that she will be working hard to pick up where Keza left off.
"Thankfully, I worked right next to her for the past semester, so I knew a lot of what she was working on," she said.
Taylor said she doesn't think the resignation will hurt the goals of the Student Government Leadership Team because the organization still has four experienced members to pick up any slack.
"It definitely does cause some change within the leadership team," she said. "I would say overall the change is minimal for the organization as whole."
To ease the transition, student body president Yash Singh will oversee the Assembly of College Councils, a responsibility usually reserved for the student body vice president, until a new chief of staff has been appointed.
"Once the resignation happened, Bethany and I met with Dr. Taylor, and we realized, you know, okay, now that there is a position opening, we're going to have to split work," Singh said. 
After all applications have been submitted, Singh and Clinton will begin the process of selecting a new chief of staff.
"I'm excited to find someone else to join our team," said Clinton.
Clinton will be sworn in Tuesday during the first Student Senate general body meeting of the spring semester.
"I have a new partner in crime," said Singh. "My number two is someone who was, you know, my number three before."
@peytonnorth