After roasting their first batch of coffee on the anniversary of first meeting each other, John and Cindy Salter knew they had something special.
The self-proclaimed coffee geeks own and operate Salter Bros. Coffee Roasters and have been in business since before November 2018, Cindy Salter said. As empty nesters with past careers of their own, they decided to follow their passion for coffee and create their own small business.
Although they have been in business for about a year, they already have partnerships with two large Arlington properties — Texas Live and Live By Loews hotel.
As Arlington attracts large businesses, opportunities for local businesses to interact with the larger ones grow, city manager Trey Yelverton said. Any time small and large businesses work together in the same city is a great thing, and it increases the city's dollars.
"Absolutely want to see more and more of that when we're making investments," Yelverton said.
These kinds of partnerships amplify small business opportunities, said Maggie Campbell, Downtown Arlington Management Corporation president and CEO.
When consumers visit, they want an authentic experience, Campbell said. So taking a locally grown business like Salter Bros. and promoting and marketing their company in a large venue, is a win for everyone, she said.
When first starting out, John and Cindy Salter thought about pitching their coffee business to small businesses and working their way up. However, after some thought and knowing how distinct their coffee's flavor is, they went for after the bigger businesses.
At a Texas Live breakfast in 2018, John Salter told Mayor Jeff Williams he wanted to serve his coffee there. After encouragement from the mayor, he reached out to the Texas Live marketing team.
What seemed like an intimidating task for some wasn't one for them, Cindy Salter said.
They called around, finding the right people to talk to, and set up any meetings or tastings to prove they wanted to be served there, she said.
They knew they were trying to be a coffee roaster and supplier for a place that is regularly a sports bar where beer is the beverage of choice, Cindy Salter said. However, they reasoned that where there is a meal, coffee is usually not far behind. With the venue also hosting morning meetings, they knew they had a shot.
They hoped when customers asked about the coffee, the venue would be able to tell the story of the coffee roasters who live down the street and raised their kids here, she said.
"What a welcoming idea for people coming in from all over the country," Cindy Salter said.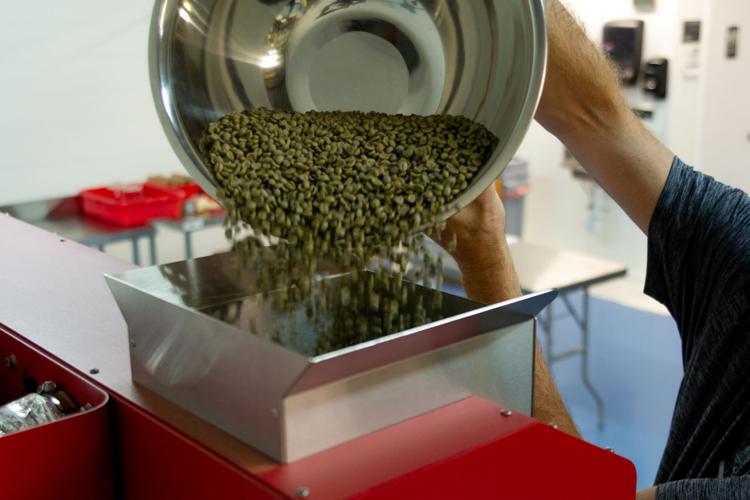 Not long after that, they were named the official coffee roaster and supplier of Texas Live.
Marcela Ceccacci, Live By Loews sales and marketing director, said Loews hotels are all about going into an area and partnering with the local community.
With every Loews hotel they partner with something they call local flavors, she said. This is to ensure that at every Loews location there are locally produced flavors available to patrons.
"It's really big that the community knows that we are here to work with them, to be part of them," Ceccacci said. "It benefits the overall success for the city of Arlington."
The Texas Live partnership was big for them, and it also helped open the door for Live by Loews, Cindy Salter said.
Unlike the already in business Texas Live, Live by Loews was not yet operating when they approached them for their coffee services, John Salter said. With that, the hotel had other comparisons on coffee but eventually went with Salter Bros.
The Salters' coffee would eventually be sold in River Market, a coffee shop located inside the hotel.
"I'm not gonna lie, that will never get old," Cindy Salter said on seeing their coffee in the hotel. "That's a very exciting thing."
John Salter said they hope to continue roasting coffee and working with businesses around town. They even have plans to open a coffee shop in downtown where they can serve and roast their own coffee.
"The plan is just to produce some really good local coffee for people to enjoy," Cindy Salter said. "We're just gonna keep doing that."
@bjgarcia27