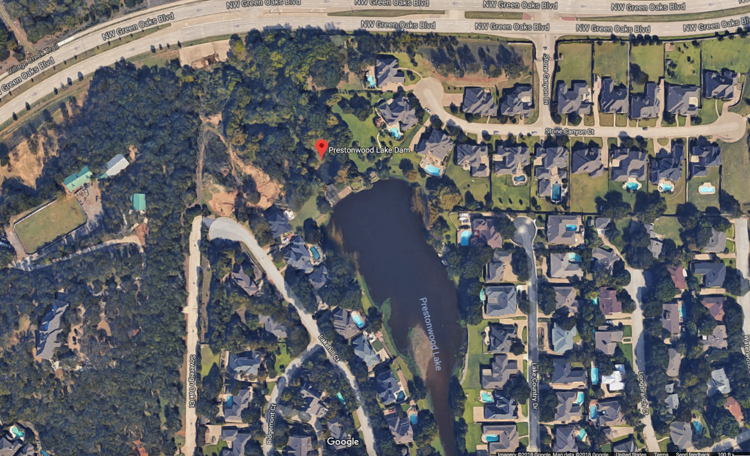 A North Arlington dam is on the verge of failure. 
Arlington Mayor Jeff Williams signed a proclamation declaring a state of emergency Wednesday after the influx of rain created damages to the Prestonwood Lake Dam north of Lamar Boulevard.
The mayor and city determined "extraordinary measures" must be taken to alleviate the potential suffering of people, according to the proclamation.
If the dam fails, the culverts at Northwest Green Oaks Boulevard may become clogged with debris and could cause roadway flooding, according to a city press release.
The state of disaster will continue for no more than seven days, but it may be continued as the Arlington City Council sees fit.
Severe weather and flooding began in September and caused "widespread and severe" property damage in the area, according to the Declaration of Local Disaster.
The dam is in early stages of failure because of the erosion and the proclamation was issued so the city would be ready should anything happen, Arlington Communication Coordinator Susan Schrock said.
Most of the soil in Arlington is erodible and with all the rainfall, the ground becomes saturated around the dam, said Anand Puppala, College of Engineering research associate dean and distinguished civil engineering teaching professor.
The continuous rain prevents the soil from resettling, creating eroded voids around the structure, compromising it, he said.
Puppala said if the dam fails, he expects it will take months to determine full reasoning for the failure.
For the last two months, Arlington endured record breaking rainfall for both September and October.
The Metroplex experienced 28.35 inches of rain the last two months. October saw record amounts of rain in Arlington with 15.66 inches, which was unusual, said Patricia Sanchez, National Weather Service meteorologist. Thursday and Friday have a 20 to 30 percent chance of rain, and those chances will increase as a cold front moves into the area Saturday night into Sunday morning. Arlington may experience minor flooding, she said. 
@SamanthaDouty @KyleRCotton