DALLAS — President Donald Trump was welcomed by thousands of supporters, whose "Make America Great Again" hats and T-shirts created a sea of red, white and blue along Victory Plaza on Thursday for his "Keep America Great" rally at the American Airlines Center.
Trump visited Dallas with the 2020 election year looming and after an impeachment inquiry was initiated by House Democrats and Speaker of the House Nancy Pelosi. Presidential candidate Beto O'Rourke held a Trump-counter rally called "Rally Against Fear" in Grand Prairie on Thursday as well.
A majority of his supporters stood in line hoping to get the chance to be a part of the American Airlines Center crowd, while others gathered at nearby restaurants and patios.
Every street leading to the American Airlines Center was crowded with vendors selling "Drain the Swamp" and "Trump 2020" shirts, bumper stickers and even a Trump-inspired cereal brand.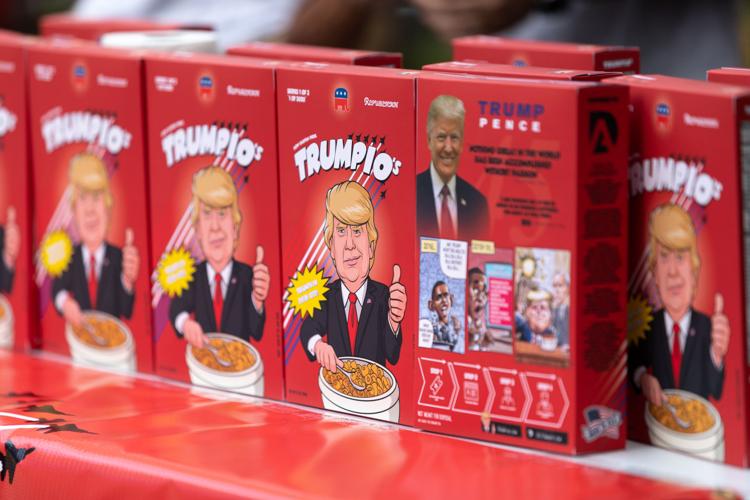 Like many supporters, biology junior Gk Pai waited for the opportunity to go inside the venue. But, after waiting for about four hours, Pai said he couldn't get in.
"It was still probably another stadium full of people outside," Pai said.
Trump said he was thrilled to campaign in Texas, "the lone star state." 
"There has never been a better time to be a proud Texan," he said. "There's never been a better time to be a proud American."
Trump said Texas was made up of farmers, ranchers, pioneers and oil workers who built their lives with their own hands. His stance on trade, homeland security and energy has helped Texans, he said.
A trade agreement with China is expected to be signed when Trump meets with President Xi Jinping in Chile, he said. The agreement would bring in $50 billion a year to U.S farmers.
Arlington resident Tim Bartin said he doesn't agree with everything that Trump says, but Trump taking on America's adversaries fuels his support.
"Anybody that can go up against the Chinese or whoever else is kicking our butt or taking advantage of us, I love it," Bartin said.
Trump said he ended the war against energy in the U.S. but emphasized that Democrats wanted to take that away. They want to abolish oil production, he said.
"In other words, they want to annihilate your Texas economy," he said. "Can you imagine?"
Protesters and Kurdish supporters stand outside President Donald Trump's reelection campaign rally
Supporters inside and outside the venue hung on every word, cheering at the mention of job growth, the military and Trump winning reelection and booing at the mention of Democrats, Pelosi and the media.
Trump dismissed the impeachment inquiry, which was announced after a whistleblower alleged that Trump pressed Ukrainian President Volodymyr Zelensky to investigate Joe Biden, former vice president and 2020 presidential candidate, and his son, Hunter Biden.
"They come after me, but what they're really doing is they're coming after the Republican Party," he said. "And what they're really, really doing is they're coming after and fighting you, and we never lose."
Trump then urged the crowd to show up on Election Day and win against the "do-nothing Democrats."
While Democrats want open borders, Trump said his administration has stopped "horrible" migration. He praised U.S. Immigration and Customs Enforcement for deporting thousands of MS-13 gang members.
"My administration believes in a simple principle," he said. "The best way to keep foreign terrorists out of America is to deny them — just deny them admission in the first place."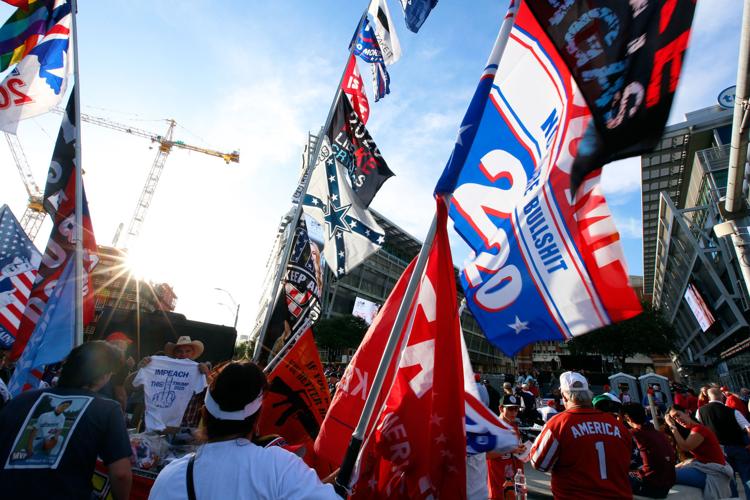 Pai, who attended a Trump rally for the first time, said he finally got to see the fellow Trump supporters who often fear to be open about their views.
"It really makes it real once you actually go to a Trump rally. You see these thousands of people that you don't see on the streets," he said. "Being around like-minded people and seeing the love and the connectedness that everyone has for each other in these rallies, that is the key factor."
Trump said the 2020 election was about the voters at the rally Thursday night. He said it was about their families and the future fate of the country.
"We are going to keep on working," Trump said. "We are going to keep on fighting, and we are going to keep on winning, winning, winning. We are one people, one family and one glorious nation under God."
@colby_farr @DavidSilvaetc