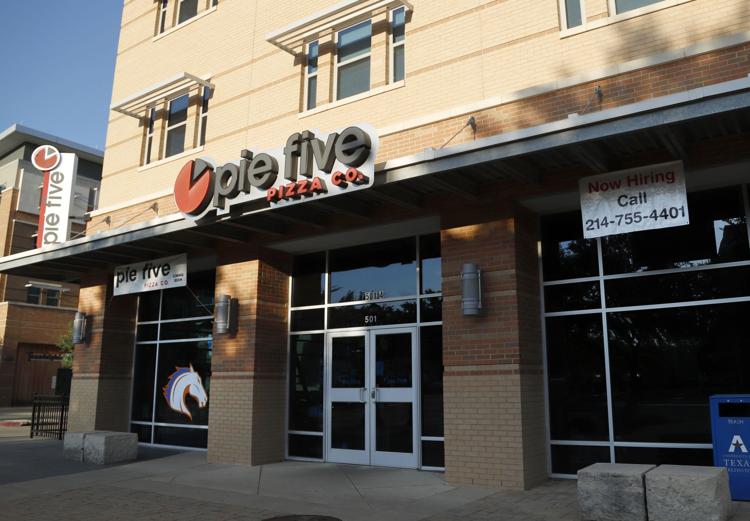 Pie Five Pizza Co. is returning to UTA.
New franchisers for the personal pizza restaurant recently signed a contract with UTA to reopen the College Park District location and plan to open its doors in October, Stephanie Edgett, University Center contract management assistant director said in an email. The new owners are currently working to get new equipment installed.
Franchise owner Sheila Afzal said the location is hiring for 30 to 40 positions and she expects to hire both students and community members. Those interested in applying can call 214-755-4401.
The original location unexpectedly closed Feb. 6 because of financial troubles, according to a previous Shorthorn article. The previous franchise owner notified some employees on the day of closing, hours before their shifts would have begun.
Before closing, Pie Five was the longest-running restaurant within College Park District, having opened about seven years prior.
University Center director David Albart said student demand motivated the university to pursue bringing back the restaurant, rather than pursuing another brand.
History junior Jhoselyn Torres' first meal at UTA was at Pie Five — a meal shared with a friend after orientation.
Pie Five pizzas invoke nostalgic memories for her, Torres said. It takes her back to two years ago when she was a freshman having conversations about what her future at UTA might look like.
She said she isn't surprised that students wanted it to return — the option adds diversity to dining on campus, and it's especially popular for residents of Vandergriff Hall.
Now, Torres said she awaits the chance to sit down with one of her friends at the restaurant and create more memories.
Albart said the university wanted to work with Afzal and her husband because they have experience running Pie Five locations and should be able to reopen quickly.
This will be the eighth Pie Five location that she and her husband have opened, Afzal said.
"We hope it will be a quick welcome back to Pie Five from all the students and the UTA staff," she said.
@reeseoxner