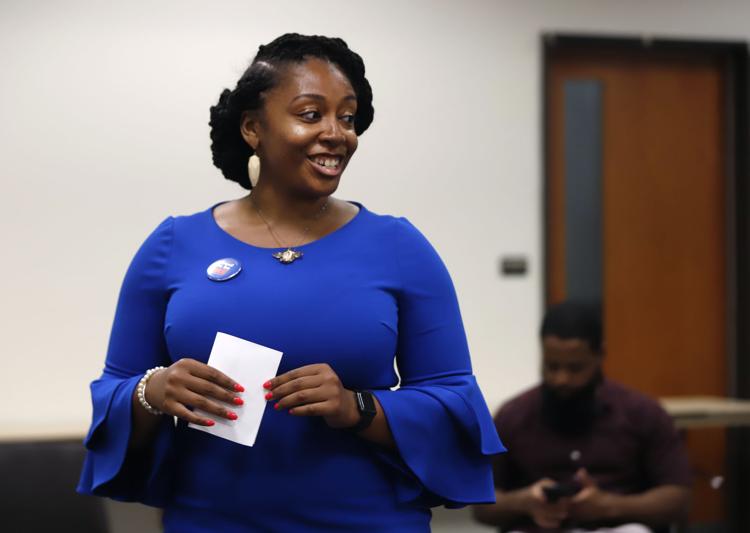 April Napier, Multicultural Affairs assistant director candidate, led students, staff and faculty through a facilitation titled "Unpacking the Invisible Knapsack," where audience members listened to each other's experiences when facing privilege in their communities.
Napier is the second candidate to visit UTA as part of Multicultural Affairs' search for a new assistant director.
The assistant director position is open after the resignation of Kasey Catlett in late May, who left after finding a position at the College of the Holy Cross in Worcester, Massachusetts.
Currently, Napier is the Office of Multicultural Affairs director at Abilene Christian University. She has been at the university since fall 2018.
Napier said she chose UTA because of its size and diversity of opinion, ages and backgrounds. If chosen for the position, she said a strong self-care program would be a priority for her.
During the facilitation, two envelopes were passed in a circle. One contained strips of paper with statements meant to be read from a person of color's perspective, and the other contained statements to be read by someone who doesn't identify as a person of color.
Each statement centered on lived experiences and privilege when dealing with identity, representation, safety and belonging as it pertains to race.
"The end goal of this is to understand privilege is a gift," Napier said. "The abuse of privilege is what causes destruction."
Audience members were encouraged to be forceful when saying the statements they pulled from the envelope, even if the experience wasn't directly relevant to them.
Choosing to address controversial topics in a facilitation speaks to the facilitator's expertise and how comfortable they are with calming down conversations before they get too heated, Multicultural Affairs director Melanie Johnson said.
Going around the circle and having people speak these statements helps point to elephants in the room, Johnson said. Issues have to be brought out into the open before they can ever be overcome.
"I think that is one of the issues we have in the United States is that we are so used to being [politically correct] as far as not addressing the issues that we have," she said. "The problem never gets solved because we never directly addressed the problem."
The key to facilitation is learning to engage participants in the conversation without directly calling people out.
Admissions counselor Gabriel Escobedo said he has been to many facilitations throughout his career and thought Napier's facilitation was emotionally and mentally engaging.
"It was resonating," Escobedo said. "It resonated inside with others and it created new conversations."
@peytonnorth