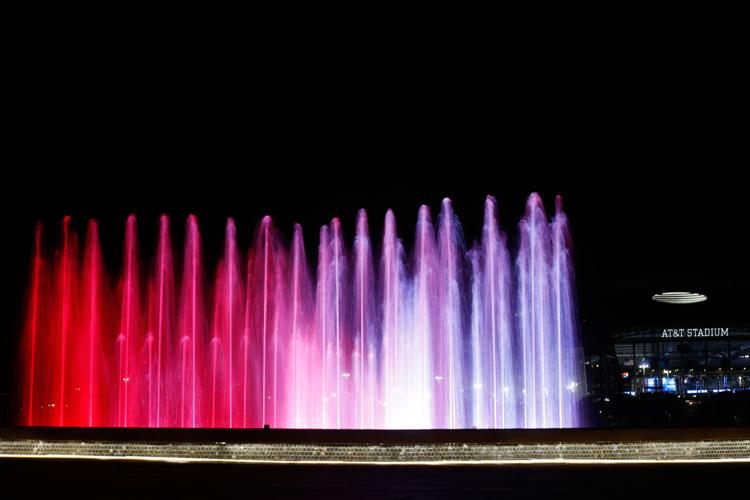 With the press of a button, a 48-foot diameter show water fountain behind Live by Loews hotel will join sports spectators' cheers from down the street.
The fountain is designed with 200 color-changing lights, allowing it to display the respected team's colors in celebration of a win.
It includes 57 fast-paced jets that shoot up over 25 feet high, six vertical air cannons and six flame nozzles, according to a city of Arlington news release in October.
Outside the Lines, a design and construction company, started working on the fountain concepts in February, said Chris Roy, the company's creative design director. After a few months of design and working through the approval process, the fountain opened in October.
"Construction itself was done kind of in record time and was really a quick burn," Roy said. "Beginning of construction to completion was 70 days."
Roy said the fountain fits well in the Entertainment District, which includes the AT&T Stadium and the soon to be opened Globe Life Field.
"It's really, truly part of that whole sports complex," Roy said.
Scott Nassar, Live by Loews managing director, said the idea was to add something to go along with the hotel's outdoor lounge, the Arlington Clover Club.
"[The fountain] brings a little bit of Las Vegas into Arlington," Nassar said.
Mayor Jeff Williams said the fountain will deliver an impressive show to Arlington visitors and residents.
"We're proud of the enhancement this fountain will provide to our thriving Entertainment District and the beautification of Johnson Creek," Williams said.
@bjgarcia27