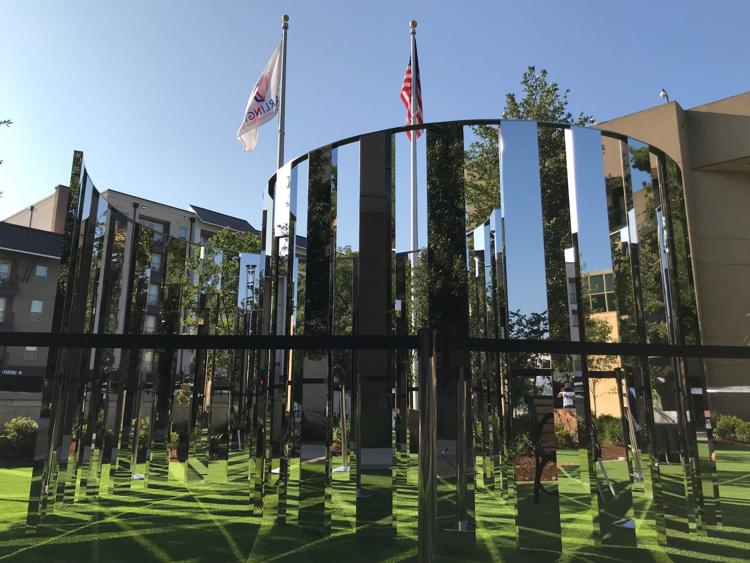 As the sun shined high and morning dew rested below, Arlington community members gathered Saturday to welcome a stainless steel and aluminum art installation standing between City Hall and the Downtown Library.
The interactive sculpture Your Way was created by Danish artist Jeppe Hein and donated by the Gene and Jerry Jones Family Arlington Youth Foundation. The sculpture allows people to walk inside and see reflected light patterns that change throughout the day.
Yoko Matsumoto, human resources interim director and former libraries director, said the art piece solidifies what cities are about, which is bringing people together and seeing the world from different perspectives.
"The art actually creates art itself with the light shining through and the different patterns that you see," Matsumoto said. "If I stood there all day, the patterns would change."
Along with the art piece, landscaping and greenery were donated to bring people together and enhance the experience, said Charlotte Jones Anderson, Gene and Jerry Jones Family Arlington Youth Foundation board member.
Anderson said when her family partnered with the city to build the AT&T Stadium, they also wanted to play a part in growing the community.
"For us to have the opportunity to bring a little turf under your feet, right outside of the library, and to put art where people can enjoy it — that was our mission, our vision," she said.
Tony Vo, Arlington resident and UTA alumnus, said him and his family visit the library every week.
He said he would notice the landscaping taking shape but did not understand what was going on.
The second he saw the sculpture, Vo said he had to stop and take a look around.
Mayor Jeff Williams said the art piece makes a statement while providing interaction with its walkability and many reflections inside.
"You can see this is a place that is going to be used for many years to come but also makes a real statement here in the middle of our community," Williams said.
@rocio_mhdz