Sabine Harvey, senior lecturer and coordinator for German studies, remembers the fall of the Berlin Wall as a surprising and emotional experience.
"Families were divided by that wall and by the borders in those days," Harvey said, recalling how the fall of the Berlin Wall impacted people. "Freedom had been reinstated for the citizens of East Germany."
The German Language Society and the Berlin past and present class at UTA celebrated the final day of "Deutsche Woche," or German Week, Friday on the University Center mall.
This week marks the 30-year anniversary of the fall of the Berlin Wall, a barrier that ran over 87 miles along the border between East and West Berlin, according to the event program.
Students spent over 12 hours outside of class planning and building the wall, which consisted of six interlocking panels.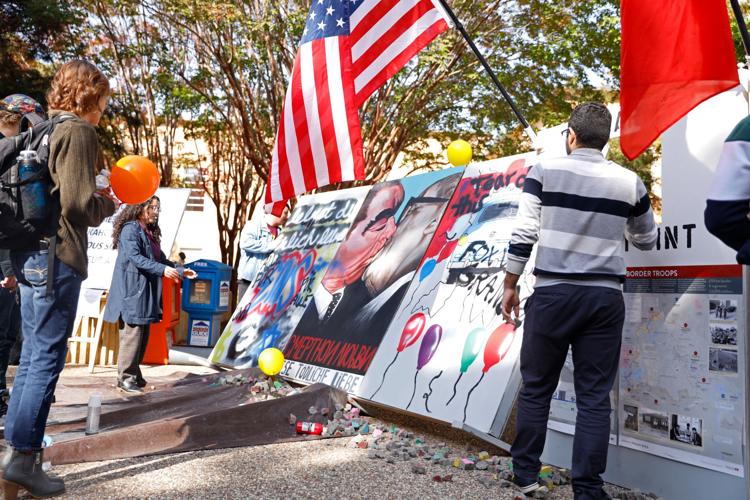 Attendees were encouraged to add graffiti as those from West Berlin did for years leading up to the fall. The students celebrated the reunification of Germany with sparkling cider, the release of 99 biodegradable balloons and the knocking over of the wall.
Susan Bush, German Language Society secretary, said she felt relieved and joyous after the fall of the wall.
"There was so much that people couldn't do with the wall up, and now that those are down, there's so many new opportunities that everyone's exposed to and things that we can all learn from each other," Bush said.
Economics senior Megan Howard said when the people of Germany found out travel restrictions for East Germans had been lifted, they rushed out and knocked the wall down.
"It divided the city and they felt incomplete for a whole, almost 30 years while it was up," she said. "I think it's a reminder of unity."
People should not take freedom for granted, Harvey said. It should be used responsibly and cherished.
"If we don't learn about history, we forget about history," she said. "And it is very important to not forget history so history won't repeat itself."
@katecey1