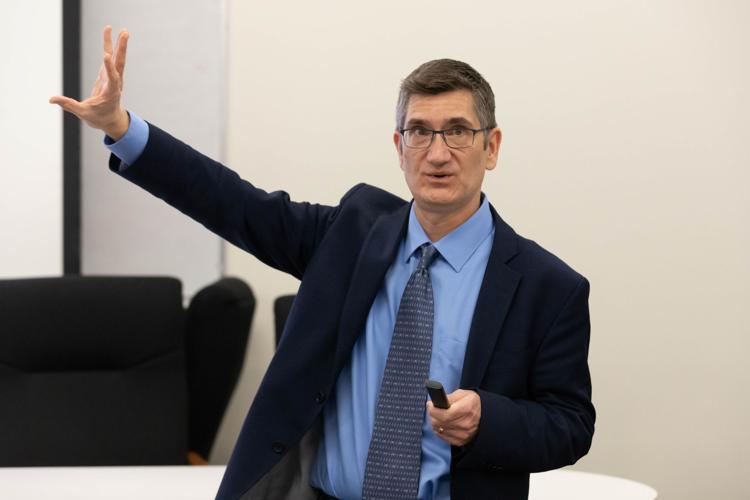 A fourth candidate forum took place Wednesday as part of the search for a new Student Publications director.
Paul Kittle, senior associate vice president for Student Affairs, said originally the search committee intended to have four candidates present, but one withdrew before the process started.
After hosting three scheduled candidate forums, the committee invited Chris Evans, a fourth candidate.
The position oversees the Student Publications office, which houses The Shorthorn.
In mid-July, the position was left vacant when former director Beth Francesco took a position as an operations director for the National Press Club Journalism Institute in Washington, D.C.
Evans, student media adviser at the University of Vermont, gave his presentation on the business model for modern student media titled, "Student Media, Student Success."
Evans served as president for the College Media Association from 2017 until October of this year.
Prior to this time, he said the College Media Association had been in a financial hole. While president, Evans said their membership and income increased.
Forming partnerships with potential allies, empowering board members and moving the organization forward are all incredibly important, he said.
In student media, Evans said it was vital to connect beyond campus with alumni, industry leaders and local state and national communities.
Acknowledging The Shorthorn's national third-place ranking among college newspapers, Evans said more outward-facing recognition is needed to be known as a national leader.
"[The Shorthorn is] doing things so well, but outside of student media circles, people don't recognize how amazing you are," Evans said.
Evans brought up multimedia immersion ideas such as podcasts, app development and an improved crime map as things The Shorthorn could experiment with.
As Student Publications director, Evans said he would want to make sure the publication looks at both the people and the product.
"I want The Shorthorn to feel connected to the university community, but also the state, local and national communities as well," Evans said. "That's the way that we have success beyond the newsroom."
The editorial independence of the paper matters more than anything, Evans said. Preventing censorship of student press is a hill he said he would die on.
Alumnus John Ostdick, who has attended all four of the director forums, said he thought Evans was well-prepared and showed knowledge of the industry.
Considering the current media industry and how universities sometimes view student media, he said the scrutiny when picking the candidate had to be intense.
The search committee will convene with Lisa Nagy, vice president for Student Affairs, next week, Kittle said. He said the goal is to have the position filled by early spring 2020.
@megancardona_