When Esports Stadium Arlington was unveiled about a year ago, Mark McLean, UTA Counter-Strike competitive director, said he attended because he was excited that there would be a dedicated esports facility close by.
"It was really cool to have it in our town, because usually you have to go to Dallas or even out of state to see events," the exercise science sophomore said.
Since it opened on Nov. 19, 2018, the 100,000-square-foot facility has seen various esports events, including collegiate and professional tournaments. It also has about 2,500 seats and includes a stage with a built-in 85 foot-long LED screen and an open area where video games can be played. The venue was previously the Arlington Convention Center and $10 million was invested to turn it into the stadium.
Most recently, the arena played host to the fourth annual Esports Awards, the first one held outside of London. Arlington will host the awards for the next three years.
McLean heard about the stadium development and opening through the UTA esports teams.
His Counter-Strike team played the introductory match of the Esports Championship Series Season Six Grand Finals in November 2018. Although they lost to Louisiana State University, McLean said playing competitively at the stadium was a great experience.
"You have sound-blocking headphones on, but whenever there's explosions or something, it shakes and you can feel the room; it's so much pressure," McLean said about playing on the stadium's main stage.
Stadium director Mike Hunter said the stadium was essentially a brand new business model.
Hunter said there were esports areas people could rent out and play such as gaming and convention centers. However, a dedicated esports space was a new model.
"It was starting something really from scratch," he said. "It was one of the big unknowns and one of the scary pieces about going into this."
Hunter said repurposing the Arlington Convention Center into the Esports Stadium started with Mayor Jeff Williams. He said Williams found a study about what the next big things in sports would be, which led to the esports conversation.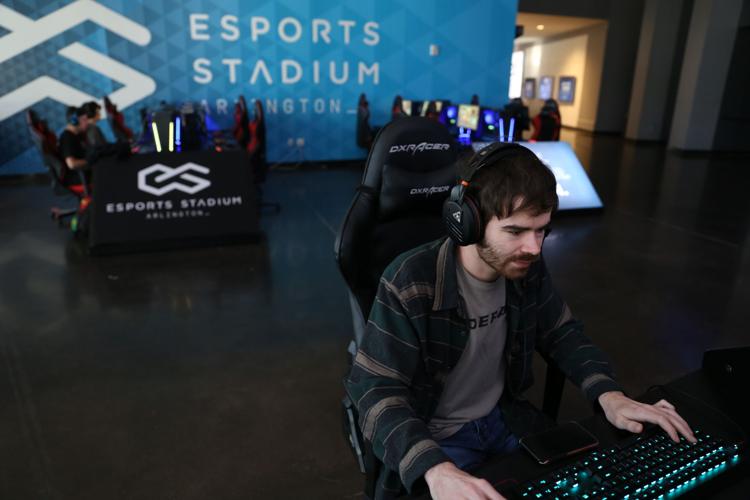 Professional sports owners were buying in on esports, Hunter said, and everyone was starting to take notice. It turned out that one of the Texas Rangers owners also owned part of an esports team and wanted to partner with Arlington to capitalize on the growing industry.
According to Newzoo, a gaming analytics company, the esports industry is expected to generate $1.1 billion in revenue this year.
City manager Trey Yelverton said it has been interesting to see esports grow over the past few years, from him questioning what it is to seeing the positive response the current stadium receives.
"It's not so much about the stadium, it's really about the broader community and economic environment that we're trying to create," Yelverton said.
Stadium marketing manager Kimberly Yee said although the stadium attracts large events such as the annual Esports Awards, it still has the local community in mind.
When big events aren't hosted, it's the local community that plays at the stadium and engages with each other, Yee said.
"We make sure to have a good relationship with everyone around us," she said.
McLean said although professional and collegiate esports teams play at the stadium, it's a welcoming atmosphere for casual players and people who just want to play video games.
He said anyone can walk in, pay a few dollars and jump into playing with their friends.
"It does have big competitive events, but it's also just a fun place to hang out," McLean said.
Hunter said the stadium has three modes. One is the gaming center, where people can casually play games, second is nightly tournaments and third is the stadium's ability to house large collegiate or professional tournaments, he said.
"What esports has done a really good job at, is a grassroots community effort to help the community understand what esports is," Hunter said. "To bring in the local people to make them feel comfortable either being here or playing games in this facility."
Psychology sophomore Jesse Webb said he usually goes to the stadium every Tuesday for tournaments.
Webb said he enjoys the fighting game tournaments. He said the stadium has all the equipment needed to play but recommends people bring their own controllers.
"You don't want somebody else's sweaty controller whenever you're trying to play," Webb said.
Esports are starting to be normalized, accepted and popularized everywhere, he said. The stadium helps tremendously in increasing esports popularity.
"You see it when you commute to just doing your everyday activities, and the fact that it's in your backyard now helps normalize that even further," Webb said.
Evan Anderson, aerospace engineering sophomore and stadium local area network operator, said it's great to see people out of their homes and playing together in the gaming center.
"There's not the stigma of people sitting in their mom's basements playing games alone," Anderson said. "You get people with friends coming out and playing together."
Yelverton said being able to not only host local and collegiate events, but also huge events that bring in international and statewide traffic is huge for the stadium as it looks forward to the future.
"We wanted it to be great and impressive and awesome to the users because we wanted them to talk about it, we wanted them to come back," he said. "We wanted them to be blown away by the tools and technology that were there that was going to embrace this up and coming professional competition and economy."
@bjgarcia27