CEDAR HILL, Texas — Winding through a narrow dirt path lined with brown and brittle underbrush, 18 UTA students and staff made their way along the Dallas Off Road Bicycle Association Trail in Cedar Hill State Park on Sunday.
The hiking trip was organized by Campus Recreation as part of its Adventure Trips program.
Information systems senior Al Alpuche led the group on the trail, which wound through wooded areas and along Joe Pool Lake.
Alpuche said he has been to Cedar Hill State Park before and came on Saturday to scope out the trail beforehand.
For him, the main goal of the student-led trips is to one day get more involvement, interest and hopefully bring an outdoor program to UTA.
Alpuche said for spring they plan to have a kayaking trip along with two other hiking trips, possibly coming back to Cedar Hill State Park once the foliage comes back to life.
Rachel Welbes, critical languages and international studies senior, said she heard about the hiking trip through Alpuche, who works with her at the Climbing Wall.
Welbes said when she was younger she used to go camping a lot with her family to places like McKinney Falls State Park and Big Bend National Park. She said going outdoors and spending time with nature helps her get away from everyday life.
"No matter what's going on in your everyday life, nature is always just gonna be nature," Welbes said.
For the hike, Welbes packed her backpack with sunscreen, a bandana, medicine, Band-Aids, snacks and her water bottle; all the stuff she usually has on hand anyway because she said she likes to be prepared.
Welbes said she was actively involved with the Girl Scouts for 11 years, and the preparation skills she learned have stuck with her to this day.
Going outside and spending time in nature is something she thinks is important for people to experience.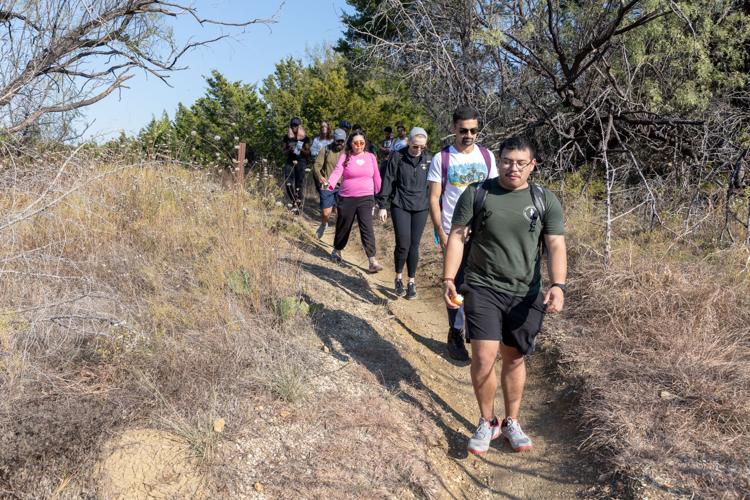 "I think within all of us there is that drive to go back to nature," she said.
For Harshavardhan Ramamurthy, computer science graduate student, one of his main intentions of going on the hiking trip was to meet new people, which he said was a success.
Stopping along the way, he took pictures with his Nikon camera as part of his self-taught hobby.
Ramamurthy is from Bangalore, the capital of India's southern Karnataka state. He said Sunday's Adventure Trip went hand in hand with his interests because he went on hiking and trekking excursions when he lived in India.
He said he has nostalgic memories of the farms near where he grew up and how he was able to connect with nature that way.
"You never really know what you'll find unless you go out," Ramamurthy said. "Things are not going to come to you, right? So if you want to experience something new, the best way to do it is to get off your couch and get moving."
@megancardona_