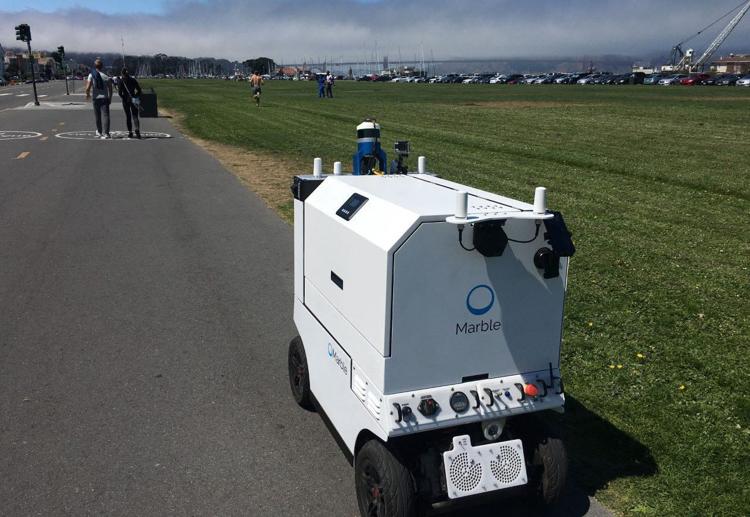 Online retailers like Amazon and eBay helped shift shopping from brick and mortar department stores to the internet, and the methods of delivering goods are shifting with time, too.
Arlington City Council began that shift after approving the implementation of personal delivery device pilot programs within the city at a meeting Tuesday, June 19.
Personal delivery devices are autonomous, electric robotic delivery devices that travel at slow speeds on sidewalks to deliver food, groceries, packages and more.
The delivery robots travel 3 to 4 mph, making short trips up to two miles and can only be opened using a unique code given to the intended recipient, according to the Arlington city council staff report.
Alicia Winkelblech, city of Arlington assistant director for strategic planning, said the city was interested in creating a supportive environment for different companies to test personal delivery devices in Arlington.
"Arlington [is] an innovative, forward-thinking city interested in testing technology-based solutions," Winkelblech said.
Jackie Erickson, communications and government relations director at Marble, said the delivery devices are designed with simplicity in mind but are made to carry various sizes of bags and can be customized for specific customer needs.
Maps are routed ahead of time so the delivery robots will know where to go, she said. Cameras and sensors are built into the robots prevent them from running into obstacles or veering off path. Operators also track the delivery robots to be sure they follow the programmed routes.
Marble is a personal delivery device company that worked with the city to draft the resolution allowing the pilot programs. It will begin its pilot program this summer, with the delivery robots hitting city sidewalks toward the end of summer and beginning of fall, Erickson said.
With more people choosing to shop online, she said retailers are presented a challenge of how to move goods efficiently.
"From a supply chain standpoint, there is a little bit of a struggle right now with how to continuously get things to homes in an efficient way," she said. "There's not enough labor to support this new system of e-commerce."
Erickson said Marble's goal was to bring something into the real world that has an impact on this movement of goods, specifically to support the current demand.
Arlington is unique because of its large college-age demographic as well, Winkelblech said. Students living in Arlington attending UTA will be able to order food or groceries from nearby stores without ever leaving campus.
Christian Hoermann, mechanical engineering senior and ROVER Team president, said he's particularly interested in the potential of the robots coming to UTA's campus. He and the other members of the ROVER Team attempt to promote robotics and spread information to campus as much as possible.
Conversations about deploying the delivery robots on UTA's campus are currently ongoing and no decision has been made yet, Erickson and Winkelblech said.
Winkelblech said companies who typically deliver by vehicle can save money and time by utilizing the personal delivery devices for short-distance trips.
Instead of sending delivery drivers two blocks down the road for an order, merchandisers can load up a personal delivery device with food and packages and send it on its way, she said.
Winkelblech also said the personal delivery devices would cut down on curbside congestion because fewer cars would be left idling by the curb for deliveries.
"That in turn improves the air quality," she said.
There may be some people who worry the robots will eliminate jobs for humans, Hoermann said, but he's optimistic that this isn't the case.
With more robots roaming campus, it raises awareness of what Science, Technology, Engineering and Mathematics fields are capable of and in turn, leads to more opportunities for STEM jobs, he said.
"For every one person it replaces, it would employ 10 more STEM majors," Hoermann said.
He said even his mother, who used to work for a grocery delivery service, is excited about the delivery robots and the potential that comes with them.
Hoermann said he expects an explosion of robotics technology soon that could lead to humans regularly cooperating with our machine counterparts.
Contrary to movies like I, Robot, where robots take over the jobs of humans, Hoermann envisions a world where humans and robots work together.
"In reality, it would be more like humans working with robots to accomplish a task instead of sending the robot to do it themselves," he said.
One downside to the potential robotics technology explosion would be the increased amount of training humans would need to interact and work alongside robots. Where a delivery driver now may only need a few weeks of training, someone working with robots could potentially need years of training, Hoermann said.
Winkelblech said there's a growing demand for technology and in turn, companies are showing a growing interest in deploying their technology in forward-thinking cities.
"Arlington would like to be a place where someone can come and do just that," she said.
@bekah_morr