Within 24 hours a team of UTA computer science students who call themselves Double Stuffed Oreos created a Tinder-like app that allows people to apply to jobs with a swipe of a finger.
"Just how Tinder made dating a little bit faster, this will do the same thing for job applications," said computer science junior Adarsh Pai.
Over the weekend, hundreds of students from different universities participated in the annual HackUTA, a hackathon or "invention marathon," where students have 24 hours to complete a technical project.
Companies such as Google and Facebook sponsor hackathons and use the events to scout potential interns and future employees, former HackUTA organizer Scotty Shaw said. Students can demonstrate to company recruiters their technical skills as well as their ability to work in a team, allowing them to make an impression on companies they may want to work for.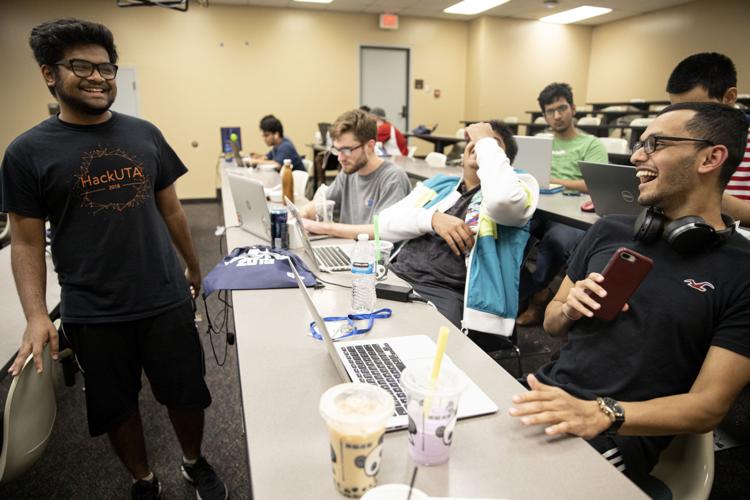 HackUTA lead organizer Lena Ngungu said projects are judged based on factors such as creativity, value, technical difficulty and innovation.
Double Stuffed Oreos consisted of computer science juniors Pai, Imtiaz Khaled, James Brady and computer science senior Jamshed Jahangir. Though they did not take the win this year, the team had previously won two hackathons, HackHouston and HackSMU.
Khaled said seeing the difficulty computer science classmates had in applying for jobs inspired the team to pursue the project.
"The only thing worse than my job ratio with job applications right now is my Tinder ratio," Pai joked.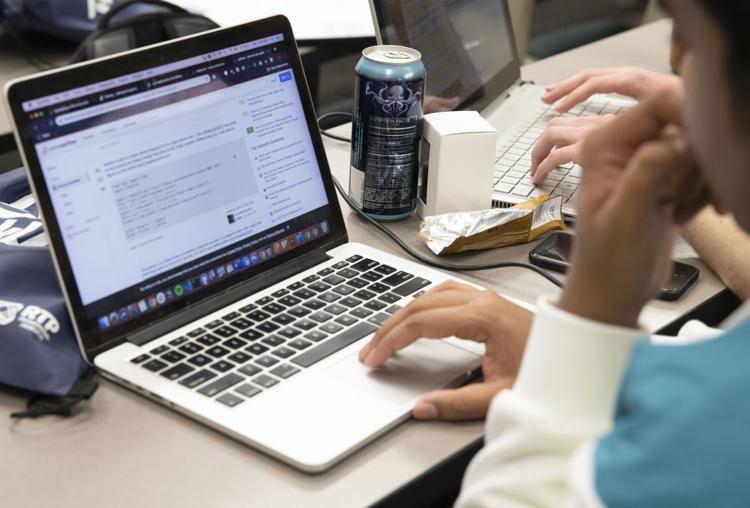 Shaw said hackathons offer an important way for companies to recruit new employees and spot the people they want.
"It's a great way for them to see for an extended time frame how good is this person at what they do, how they fit with each other, do we want to hire them," Shaw said.
At about 11 p.m. on Saturday, Double Stuffed Oreos' project was going decent but could have been better, Pai said.
The biggest issue the team had run into by this point was trying to upload the resume of the user. Jahangir said that based on how things were going, the project was either 80% or 10% complete.
"It's pretty much like you're building a car, and you're trying to figure out how the engine works," Pai said. "You have the frame going, and you're trying to build the engine. If that works you're done, right? But if it doesn't work, there's no point to the car."
Ngungu said hackathons are emerging but are still relatively unknown.
The majority of competitors were computer science, but there were multiple other majors represented, she said.
Depending on the nature of the project, students had to collaborate outside their fields. For instance, she said if students were making a game, physics and art majors would be vital.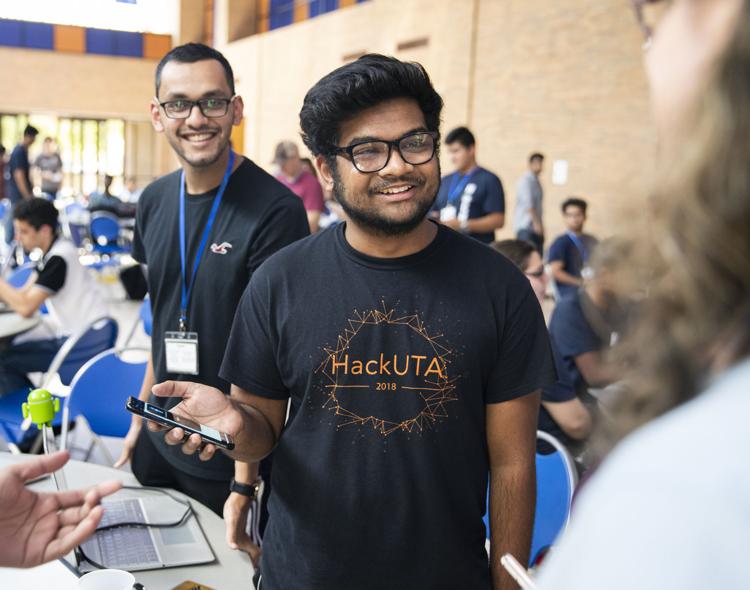 By late Sunday morning, Jahangir said he was deliriously sleep-deprived. Food wrappers were scattered throughout Nedderman Hall, and packages of toothbrushes were laid out in the bathroom for students to use.
Jahangir said he thought the team had done decent and was hoping they would get in the top three.
In the end, though, the team didn't win. The top prize was awarded to a team of students from the University of North Texas and UT-Dallas going by the team name EmpowerPoint.
"You can't really feel bad for not making it," Pai said. "The only outcome where it's kinda sad is when you don't finish your project, you know? As long as you think of an idea, you come up with a solution, and it's something presentable, it's a successful hackathon."
@SpencerBrewer10