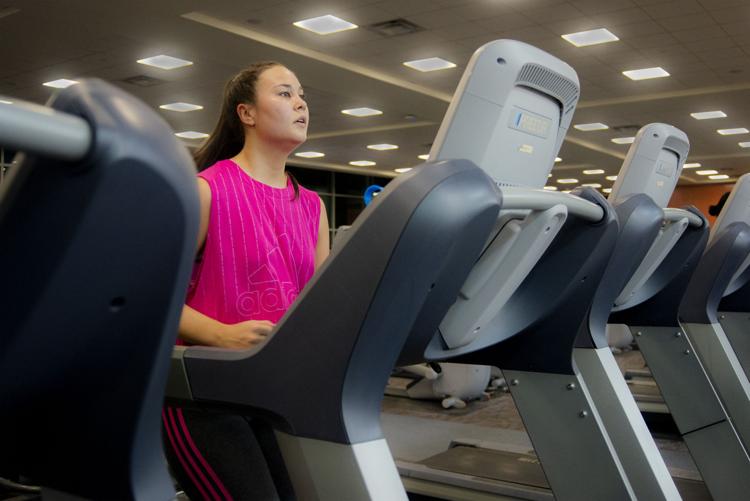 Going to the gym to achieve a desired fitness goal requires determination and motivation.
It also requires the correct type of attire in order to avoid injuries. Comfort is the main thing to look for when choosing workout attire.
Constantly pulling up your leggings during Zumba or worrying about your shirt riding up during yoga poses can make a workout dreadful.
Fitness instructor Michelle Carone said she's seen her fair share of questionable clothing options at the Maverick Activities Center. The Spanish and linguistics junior has seen people lifting weights in sandals. She was in disbelief.
"If a dumbbell falls on your foot, that's going to hurt," Carone said.
Flat shoes such as Vans or Converse are better for weightlifting. Carone said these shoes have a flat sole and allow you to go lower and deeper when doing squats. But these shoes wouldn't be ideal for running, she said.
Trendy chunky sneakers are also a bad option for activities like Zumba. The foot is so far from the ground, one can twist their ankle if they take a step wrong, Carone said.
There is no need to buy a shoe for every activity, Carone said, but try to wear sneakers that can do a little bit of everything.
Durl Rather, Campus Recreation associate director of facilities, said it's important that students, faculty and staff are dressed comfortably.
Nursing freshman Amaya Cortez likes to wear sneakers with a flexible platform. Cortez admits she can't focus on her workouts if her attire is bothering her.
Cortez said she works out in baggy clothes made from thin fabric so she doesn't get overheated.
Cotton sweats or leggings tend to rip easier, Carone said. She usually wears leggings made from nylon material since the cotton ones don't stay in place when she works out. For activities such as yoga or weightlifting, Carone recommends garments that aren't too loose fitting, like leggings.
"Yoga is to relax me, so if I'm more focused on making sure my shorts don't run up or my shirt doesn't come up my chest, then that's not me relaxing at all," Carone said.
Carone said to watch out for baggy tops when lifting weights since they can stick to the barbell in exercises such as deadlifts.
When choosing workout attire, Rather said to keep in mind the possibility of germs introduced through other people's sweat.
Though the MAC provides disinfectant wipes throughout the facilities, not everyone remembers to use them, so it is important to be covered up to avoid germs, Rather said.
Carone said other things to consider include taking off all jewelry like watches, bracelets, earrings and rings. She's made the mistake of keeping her ring on while lifting weights and got blisters as a result. Carone said jewelry can get caught on leggings or tops and cause small rips.
There is no need to spend a crazy amount of money on workout garments. The important part is being comfortable and safe, Carone said.
@ZariaMTurner
@Minadeltex