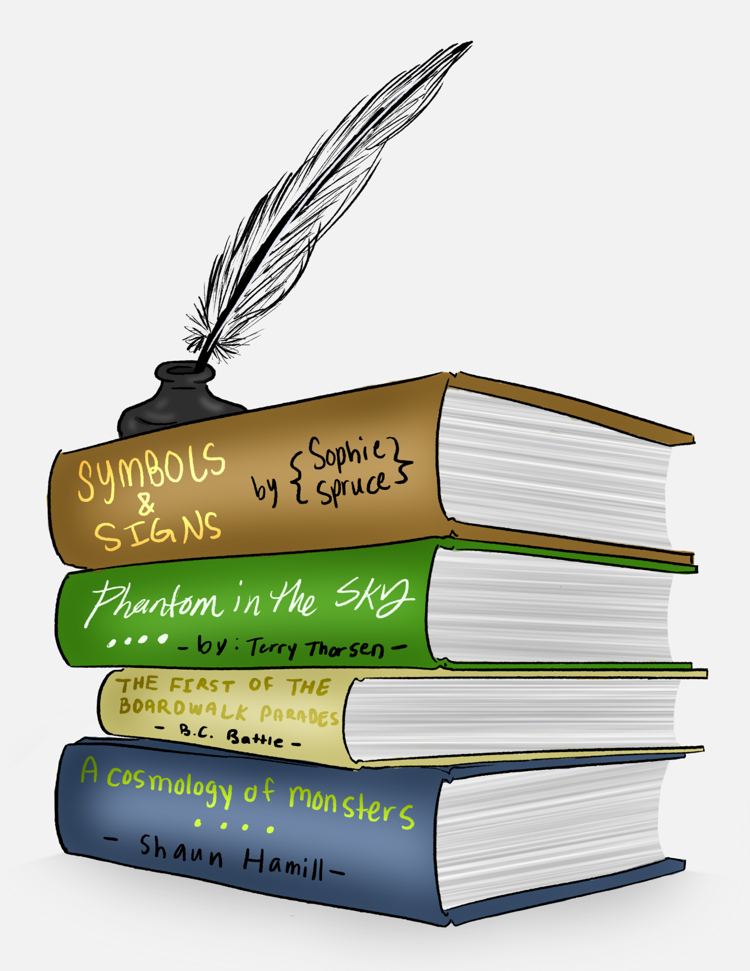 With recent releases from UTA authors such as Phantom in the Sky by Terry Thorsen, The First of the Boardwalk Parades by B.C. Battle, and A Cosmology of Monsters by Shaun Hamill, UTA writers have been put on the map in the publishing world. Hamill's recent acclaimed release originated as a National Novel Writing Month, or NaNoWriMo, piece, according to Hamill's Twitter account.
NaNoWriMo is an annual writing event spanning the month of November where hundreds of thousands of people from all over the world challenge themselves to write 50,000 words of a novel in 30 days.
English alumna Sara Hall took the challenge because of a T-shirt.
Hall said that back in high school a girl came to school wearing a shirt with "NaNoWriMo" on it, and after asking what it was, Hall was interested but doubtful.
"I never thought back then that I could write that much in, well, ever," Hall said. "This is the first year I'm actually trying it."
Hall said that although she enjoyed writing in high school, she usually stuck with shorter stories, and she thought that her style would hinder her from completing the challenge.
"I've written a book since then — 60,000 words," Hall said. "But in high school, I didn't know that I wanted to be a writer. I didn't think I could spend that much time on one project."
Sophie Spruce, English senior and fantasy writer, said that when she participated in NaNoWriMo in 2018, she was working on a novel she had started earlier that year. She put the book on hold because of school, but when she got to November of the same year, she wanted to try and finish it.
Spruce's novel is now complete, and although it's a lot more work for the author, she's going to self-publish and release it January 2020, she said.
As for graphic design senior Lydia Davis, she said although she has come close several times, she's never reached the 50,000-word goal, partially due to November always falling within the school year.
A busy school year is also the reason Spruce isn't participating in NaNoWriMo this month, but writing every day is still a method she uses to improve, she said.
Reinforcing the act of writing every day is something that Catherine Corder, English lecturer and academic adviser, recommends.
Though she feels that her past students who have participated in NaNoWriMo enjoyed writing already, Corder said that one benefit of the event is that it provides a time to form a routine.
"You can make anything a habit, and with writing it's something that you need to do incessantly," Corder said. "Every day, schedule time to sit down and write."
Davis said although NaNoWriMo can be stressful at times, the deadlines are ultimately helpful for her since they keep her accountable with her writing.
Many NaNoWriMo writers either aim for a goal of writing about 2,000 words per day, or 50,000 words divided by 30 days. It's a heavy goal, but Davis said that the NaNoWriMo community keeps her in check.
"Doing this crazy thing with a bunch of people at the same time is incredibly motivating," Davis said. "I don't know that any of us could do as well as we do by ourselves."
Davis attends weekly write-in sessions at the George W. Hawkes Downtown Arlington Public Library with her friend and writing buddy for the year. The two message each other at the end of the day to see if the other has met their word count, Davis said.
But being held to the challenge isn't as appealing to Hall, who prefers a more relaxed regimen when it comes to her own writing.
"I was real excited to try it, but it's a lot of pressure," Hall said. "When I wrote my first book I did it over four months and spread out 60K over that period of time, and didn't really try to push myself to write a certain amount in a day."
Because of the tight schedule of a standard NaNoWriMo run, Hall said the challenge hasn't been enjoyable for her so far, and that she probably won't finish out the challenge so much as write the amount that feels right every day.
She's learned from NaNoWriMo that pushing herself too far gives her writing a forced feel, Hall said, and that things come out worse when she tries to fulfill a deadline instead of an idea.
"I do my best work when I'm just enjoying it and writing for me," Hall said. "Not for somebody else, not for a deadline, just writing for my own personal enjoyment."
Even though NaNoWriMo wasn't a good match for her, Hall said that writing something every day is still her goal ­— a practice that Spruce holds as well.
Spruce said that the more someone writes, the more they grow, and the results of each day's work might not be as polished as a final product would be, but first drafts are always bad anyway.
"It's a lot about quantity because your quality gets better as you're producing more works," Spruce said.
Her advice is to just keep writing and to read a lot of the genres you enjoy.
Davis said making time to sit and write is something that trips a lot of people up, but in her experience, NaNoWriMo is a good way to break the cycle and learn as you go.
"You're never gonna get to a point in your life where everything is going to fall into place and you are going to write a book," Davis said. "If you wait, you're just going to keep making excuses, so it's a really good way to push yourself into actually doing the thing that you said you're going to do."
@Sam_Knowles00