Information systems senior Pranjal Sharma said she didn't start using a daily planner until her sophomore year, but now she doesn't feel comfortable without it.
"My freshman year I was really disorganized," Sharma said. "I've always been an organized person. I just didn't know how to do that in college."
Once she began using a daily planner, she said the stress of college life became easier to manage. As a "visual person," she said she likes to write down tasks and check them off once she's completed them.
From journals to digital calendars, there are various types of planners to choose from.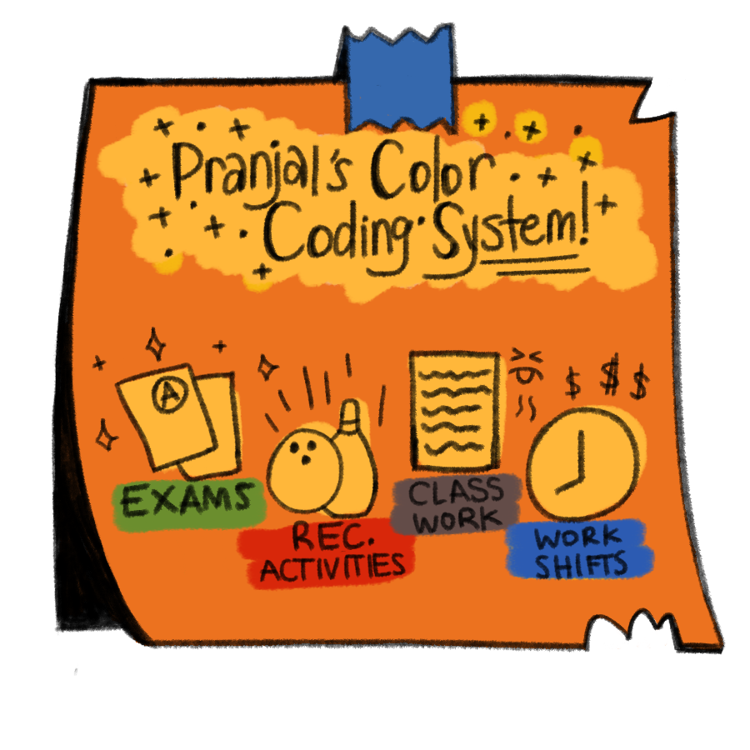 Regardless of the type, organization is always key, said Olivia Scott, Lockheed Martin Career Development Center job location and development, and work-study coordinator.
To optimize time management, many people prefer to use more than one method, Scott said.
Paper planners have recently become a trendy means of organization, she said, and more people have begun to use paper over digital planners like Google Calendar.
"There is something to having physical paper that you're actually writing [on], and you actually get to check something off of your to-do list, that is really satisfying," she said.
It's helpful to make lists and divide them into different categories, Scott said. For example, when she was in college she would categorize her day by work, personal life, classes, student organizations and her internship.
"Being able to see the to-do lists you have in different categories helps you prioritize," she said.
Roman Vasquez, interdisciplinary studies and political science senior, said simply writing something down makes him more likely to remember it.
"If I don't have my planner on me, then I'll write it on a sticky note,"
he said. "As long as I write something down, then it sticks."
A 2014 Psychological Sciences study indicated that students are more likely to remember class notes when they write them down on paper.
It was found that students who solely used laptops for noting things down were less likely to remember the information.
Vasquez said he writes as much as he can in a daily planner, but he doesn't always look at it again once it's on paper.
"I'm human," he said. "I'm still prone to mistakes."
Sharma said she adds reminders on her phone for the most pressing matters like due dates, meetings and work shifts. Having phone notifications serves as an extra precaution to avoid forgetting something important, she said.
Brian Horton, assistant professor of instruction, said successful students learn how to balance their responsibilities with their innate desire to procrastinate.
One helpful method is to map out how many hours per week to allocate to each task, he said.
Horton said the first step to time management is to set aside eight hours a day for sleep. From there, students can plan their class hours and work schedules. The leftover hours should go toward homework, recreation and other activities.
Successful students also decide priorities as soon as possible but remain flexible to change, he added. In college, it's especially important to visualize meaningful goals and to set them early and plan accordingly.
Scott recommended students read their class syllabuses and write down the due dates for assignments, projects, quizzes and tests in a daily planner at the beginning of the semester. Then, set reminders the week before so the extra busy weeks don't come as a surprise.
"Give yourself doable tasks that you can actually cross off because then you can see stuff actually disappearing from your list," Scott said. "That's really motivating."
Conflicts will arise and plans will change, Scott said, but having a daily plan already mapped out will make it easier to adapt and rearrange priorities.
"Little things don't fall through the cracks if you're keeping track of what you need to be doing and when things need to be done," she said.
Maintaining a consistent color-code across paper and digital plans can help ensure accurate time management. The creative aspect of color-coding, stickers, sticky notes and tape adds a bit of joy to daily life, Scott said.
Sharma said she highlights tests and exams in green, recreational activities in red, class assignments in black and work shifts in blue. Having a color scheme helps visually prioritize responsibilities, she said.
As she completes tasks throughout her day, she crosses them off her daily planner.
"Whenever I check things off, that makes me feel really accomplished," Sharma said.
@CecilLenzen